Your two favorite things are about ready to unite in this easy M&M Chocolate Chip Cookies Recipe!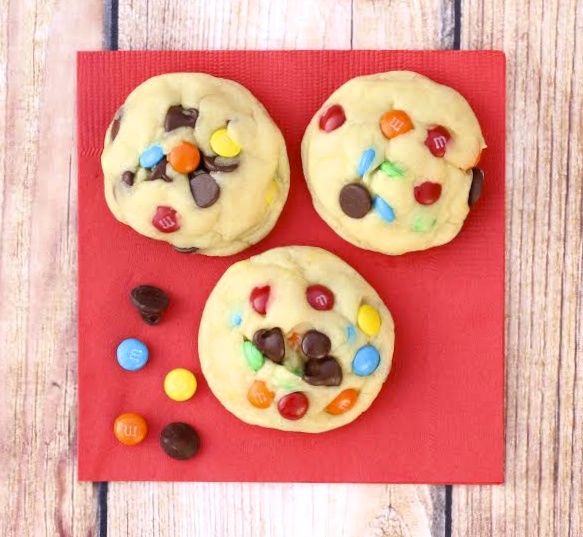 Looking for a new favorite Chocolate Chip cookie recipe?  I've got just the thing!  What happens when you combine M&Ms and Chocolate Chip Cookies? Loaded decadent M&M Chocolate Chip Cookies, that's what!  They're bright, cheerful, and ridiculously delicious!  Plus… the cake mix will make them even quicker to make!  Easy 5 Ingredient Cookies are the best, right?
At my house, these cookies disappeared at an alarming rate! 🙂  Who can resist soft, warm, homemade M&M'S cookies?  I for one sure can't!  Are you ready to get baking?
You'll just need these 5 Ingredients…
M&M Chocolate Chip Cookies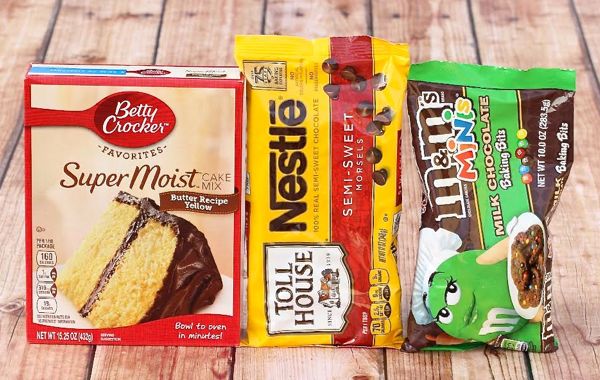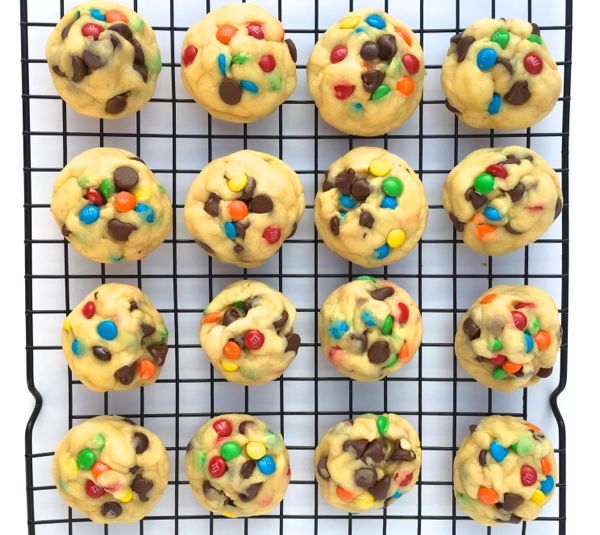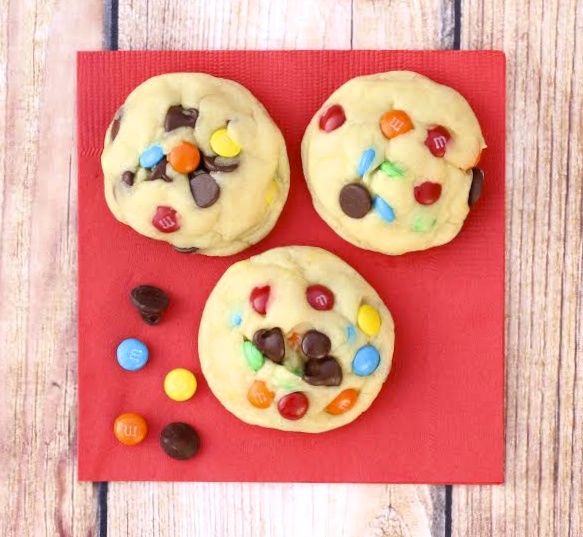 M&M Chocolate Chip Cookies Recipe
What happens when you combine M&Ms and Chocolate Chip Cookies? Loaded decadent M&M Chocolate Chip Cookies, that's what!
Ingredients
15.25 ounces Betty Crocker Butter Yellow Cake Mix (1 box)
½ cup Vegetable or Canola Oil
2 Eggs
1 cup Nestle Semi Sweet Chocolate Chips
1.5 cups M&M Minis Milk Chocolate Baking Bites
Instructions
Mix together Cake Mix, Eggs, and Oil in large mixing bowl.
Stir in Chocolate Chips and M&M's to dough, and stir well with large spoon.
Chill dough in refrigerator for 1 hour.
Preheat oven to 350 degrees.
After dough has chilled, form rounded balls and place on ungreased nonstick Cookie Sheet.
Bake 7 – 9 mins at 350 degrees, or until done. Enjoy!
What You'll Need for This Recipe: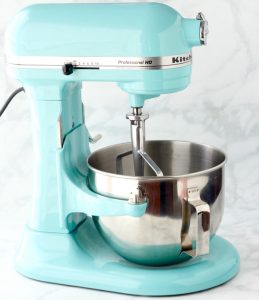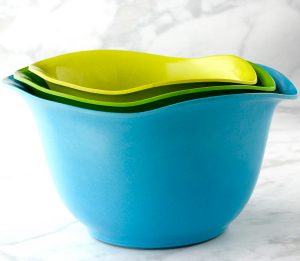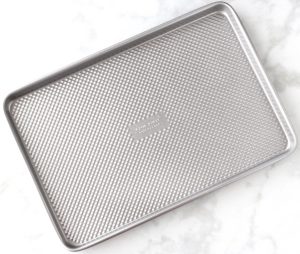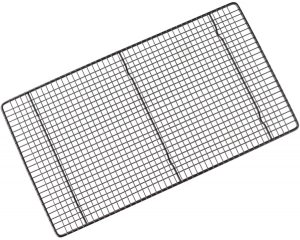 Craving more delicious Recipes?  Get inspired below…
Nothing satisfies your sweet tooth quite like this Lemon Cake Mix Cookies Recipe! With just 4 ingredients, these Cake Mix Cookies are so easy to make and the perfect combination of tart and sweet.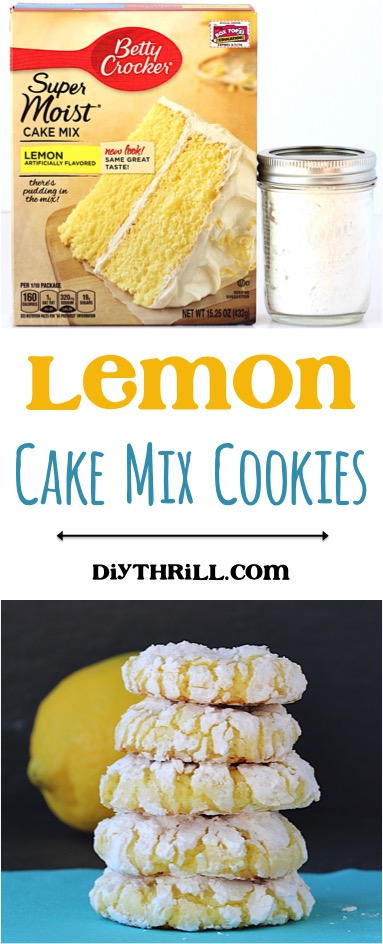 This Chocolate Chip Cake Mix Cookie Recipe is super easy and crazy delicious! This delicious cookie is the perfect solution for weeknight desserts, parties, and of course those late night cravings!

Now you can enjoy the mint chocolate decadence of your favorite ice cream… in the form of a cookie!  Yes, please!  This Mint Chocolate Chip Cookies Recipe couldn't be easier, either… just 6 quick ingredients, and you're done!

These Soft Chocolate Sugar Cookies have a soft & tender center, crisp edges, and are packed with rich fudgy flavors!  Even better, you'll only need 4 ingredients!

These Dark Chocolate M&M Cookies are so easy to make it's almost a crime!  They're simple, delicious, and dark chocolate heaven!

This Easy Hershey Cookie Recipe is the perfect way to deal with those late night chocolate cravings, and a must-have at your upcoming parties and cookie exchanges. Gooey and warm Hershey's Chocolate is always a good idea!

Looking for the cookie that is the ultimate crowd pleaser?  These delicious Heath Toffee Cake Mix Cookies will disappear as fast as you can make them!  They're soft and chewy on the inside, with the perfect little crunch of Heath Bits!  Heavenly I tell you!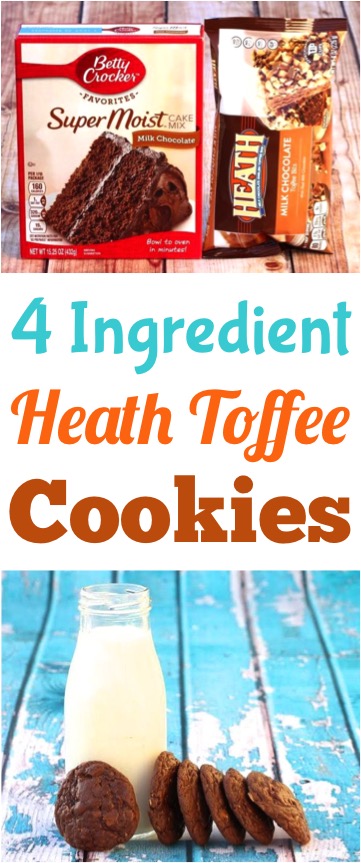 Looking for an easy and deliciously addictive dessert to make for that upcoming birthday party?  These Birthday Cake Mix Cookies taste like a little birthday celebration is happening right inside your mouth!  Just 5 ingredients, and you're ready to party!

Chocolate lovers unite!  Perfect for parties, filling that cookie jar, packing in school lunches, or just satisfying those late night cookie cravings… these 4 ingredient decadent cookies have a way of disappearing as fast as you can make them!

Who doesn't love a decadent chocolate cookie?  Take your love for dark chocolate to a whole new level with these Midnight Milky Way infused cake mix cookies!  The combination of rich dark chocolate and gooey caramel is always a good thing!  Even better… these cookies are only 4 ingredients!

Give your traditional Peanut Butter Cookies a seriously delicious makeover with these Easy Peanut Butter Chocolate Chip Cookies!  I know it sounds crazy, but they have no flour and no butter… and they are still so yummy!  With just 4 ingredients, they're so easy to make!

A cookie doesn't need to be complicated to be ridiculously delicious!  You'll love this easy Snickers Cookie Recipe! Did I mention just 2 ingredients?  What are you waiting for… it's time to meet your new favorite Chocolate Chip Cookie!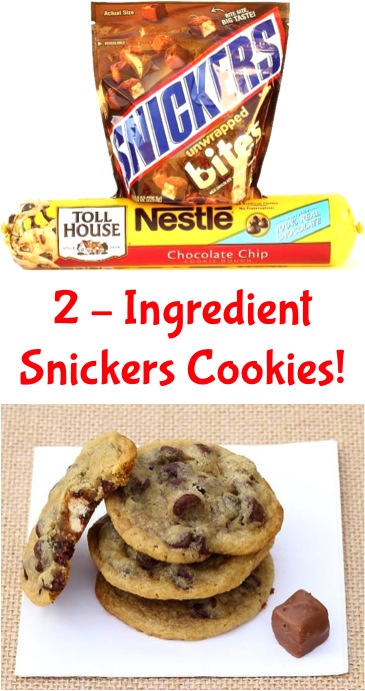 Tried this M&M Chocolate Chip Cookies Recipe?
Share with us in the comments below!