I may get
paid
for ads or purchases made through links in this post.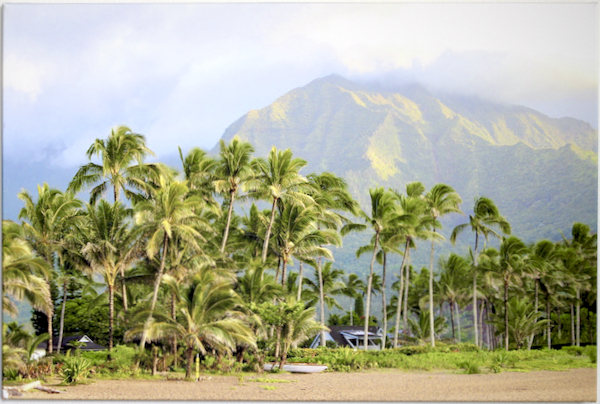 A BIG thank you to Simple Prints for sponsoring today's post.
Vacation photos often hold precious memories of our travels and adventures. In addition to sharing them on social media and storing them on our phones, why not take it a step further and turn your favorite vacation photos into beautiful canvas wall art?
Transforming your favorite pictures into canvas prints not only adds a personal touch to your home decor, but it also allows you to relive those unforgettable moments every day.
Here's how to turn your vacation photos into canvas wall art…
Step 1: Select the Perfect Photo
The first step is to choose the vacation photo you want to immortalize on canvas. Pick a picture that holds sentimental value, like a family photo or one that captures a breathtaking landscape. For my canvas, I chose a landscape picture of Hanalei Bay from my recent vacation to Kauai, Hawaii. It makes me think of my trip every time I see it!
Step 2: Edit and Enhance
Once you've selected the photo, make sure to edit and enhance it to achieve the best results on canvas. The free Simple Prints App allow you to adjust brightness, contrast, colors, and crop the image to fit the canvas size you desire. Just make sure the photo is high resolution to begin with and don't go overboard with filters and effects, aim for a natural and timeless look.
Step 3: Choose the Right Canvas and Size
Next, decide on the canvas material and size that suits your space and preferences. Canvas prints from Simple Prints come in different options, such as gallery-wrapped canvas or metal prints. Gallery-wrapped canvases provide a sleek, frameless appearance, while their high definition metal prints have a glossy finish for a classic touch.
Make sure to measure the dimensions of the wall where you intend to display the canvas so you can select a size that complements the space.
How to Order Your Wall Art…
I couldn't be happier with how my canvas from Simple Prints turned out. Since it's such a high quality print, everyone comments on it and asks what store I bought it from! In my opinion, nothing is better than the personal touch of using your own photo.
Want a sweet deal?? Get 15% off your entire order from Simple Prints when you enter code DIYTHRILL at checkout.
Download the free Simple Prints app, and start designing your custom wall art HERE.