Why make dessert complicated?  This Raspberry Cheesecake Dump Cake Recipe has just 4 ingredients, and delivers some serious flavor!
Craving something sweet and oh so tasty, but don't have time for long and complex recipes?  This Raspberry Cheesecake Dump Cake is probably the easiest cobbler to make of all time!
Just 4 total ingredients and a few effortless steps and dessert is served!  How's that for complicated?  Are you ready for some raspberry cheesecake goodness?  Here's what you'll need…

Raspberry Cheesecake Dump Cake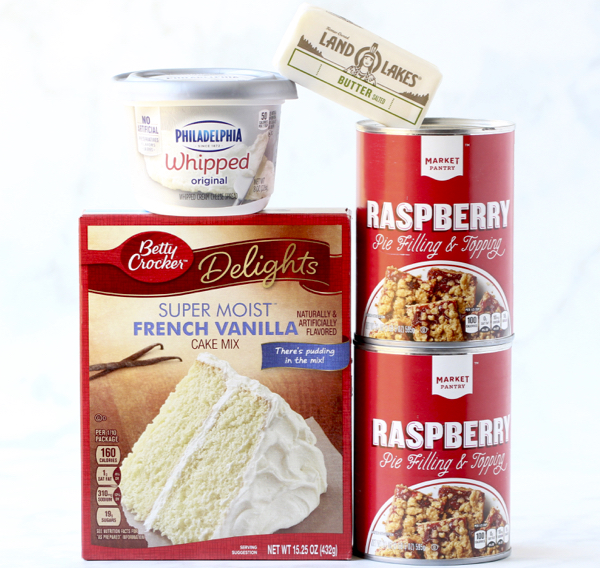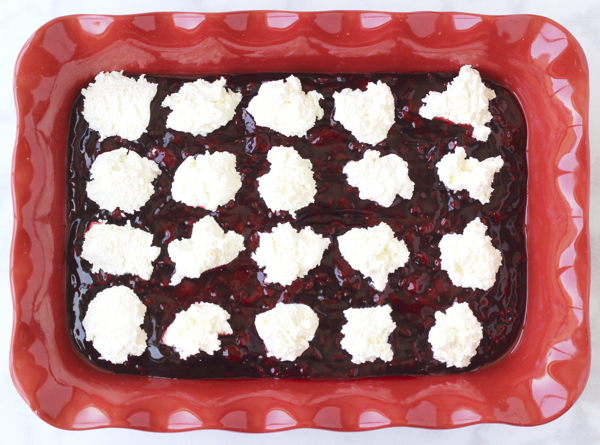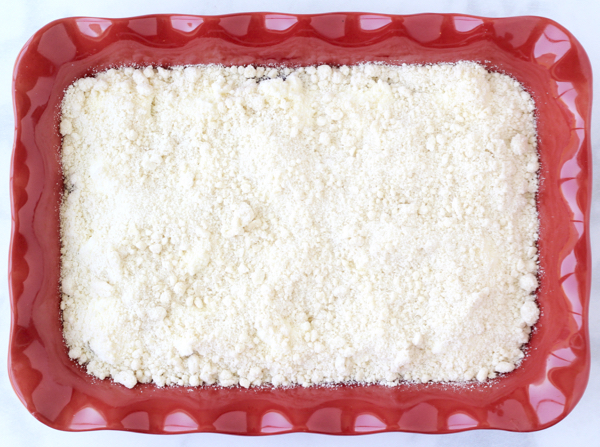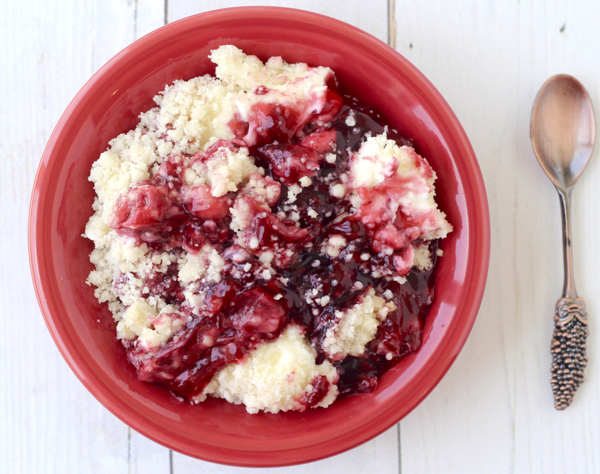 Craving more delicious Cake Recipes? Get inspired below…
This tasty Crockpot Raspberry Cobbler Recipe is as easy as can be… and a nice dollop of whip cream or big scoop of vanilla bean ice cream will send it over the top!
This rich cake is studded with pecans and covered in a decadent white chocolate drizzle. Talk about melt-in-your mouth goodness!
Don't have much time to make dessert? No need to worry… I've got you covered! This Skillet Lemon Blueberry Dump Cake is done and ready to eat in under an hour!
I absolutely love this Easy 3 Ingredient Dump Cake Recipe. All you have to do is dump it in and walk away! How's that for complicated? 😉 Are you ready for some Lemon Blueberry goodness?
Pucker up and get ready for some serious smiles when you make this 3 Ingredient Lemon Dump Cake Recipe for your family this week! It's about as easy as desserts can be, and is bursting with lip-smackin' lemon flavor!
Looking for a quick and easy dump cake recipe? By the time this simple dessert has finished baking, you will have a flavor packed tropical combination of sweet pineapples, tangy cherries, and a buttery crumble cake topping!
This Cherry Cheesecake Dump Cake Recipe is one of the easiest desserts you'll ever make! The biggest challenge with this Cherry Cheesecake Dump Cake Recipe will be resisting the urge to eat the whole thing yourself! Yep… it's that good!
The delicious flavors of Carmel and Apple explode in this yummy Crock Pot Caramel Apple Dump Cake Recipe! With just 4 ingredients, this Dump Cake recipe is crazy easy! Are you ready to make some? Go grab your slow cooker and let's get started!
Craving something sweet and oh so tasty? This Easy Blackberry Dump Cake Recipe is simple to make and like a little splash of Summer! Fruity, delicious, and total perfection when topped with whip cream or vanilla ice cream!
This Peach Pecan Dump Cake using fresh Peaches and Pecans is so yummy! Each bite is packed with delicious flavors: fresh peaches, cinnamon spice, buttery cake, and the perfect pecan crunch topping!
We all know that dessert doesn't need to be complicated to be delicious, right? Not only is this Cranberry Apple Dump Cake so easy to make, it tastes amazing! Add a little vanilla ice cream and it will disappear before your eyes!
Who said baking needs to be complicated? These 5 Ingredient Cookie Recipes are super easy to make and so yummy!
So don't miss out! Join us to get the latest DIY Thrill Projects, Easy Recipes, DIY Hacks and more right here…
So have you tried this Raspberry Cheesecake Dump Cake yet?
Share with us in the comments below!