Simple ingredients make these fun and easy Easter Bunny Biscuits the perfect Easter morning breakfast or Spring treat!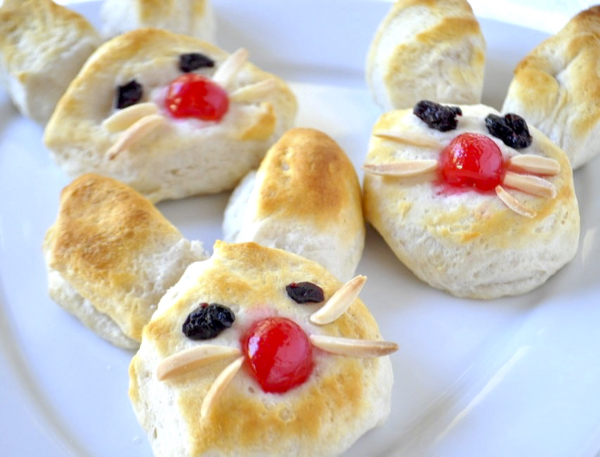 Following is a delicious Easter treat and guest post from Holly Clegg with The Healthy Cooking Blog. ENJOY!
Get the kids in on the hippity-hop fun, letting them help make the bunny ears and whiskers! These Easter Bunny Biscuits make a great snack all year long but especially this time of year. I like to use raisins, maraschino cherries, and slivered almonds, but feel free to get creative and use other favorite healthy ingredients for the whiskers, eyes and mouth. You can even use cheese and veggies like mushrooms and small broccoli florets for a savory snack!
Are you ready for the recipe? Let's get started…

Easter Bunny Biscuits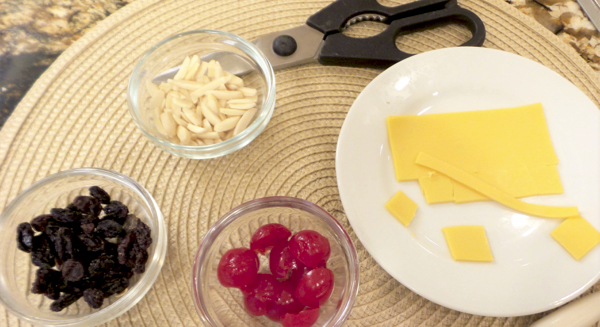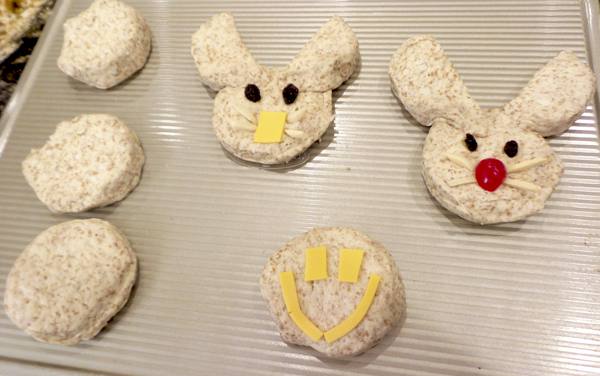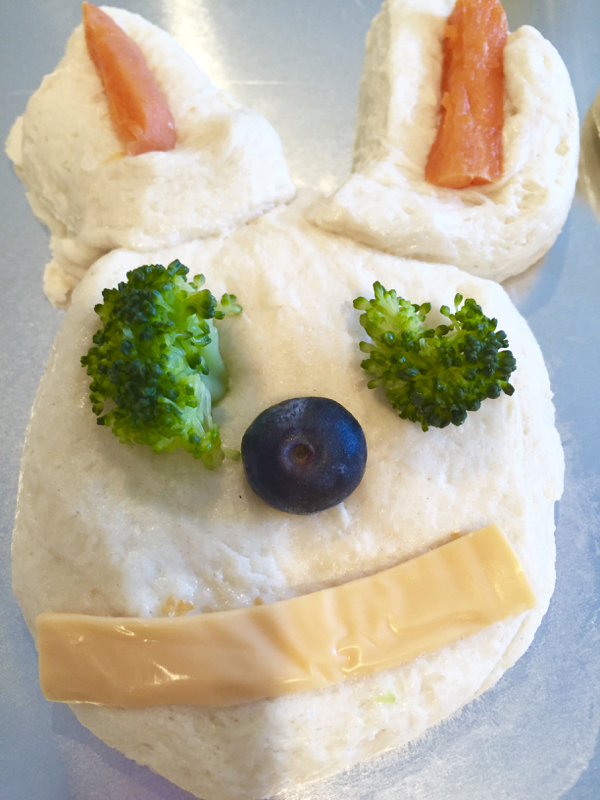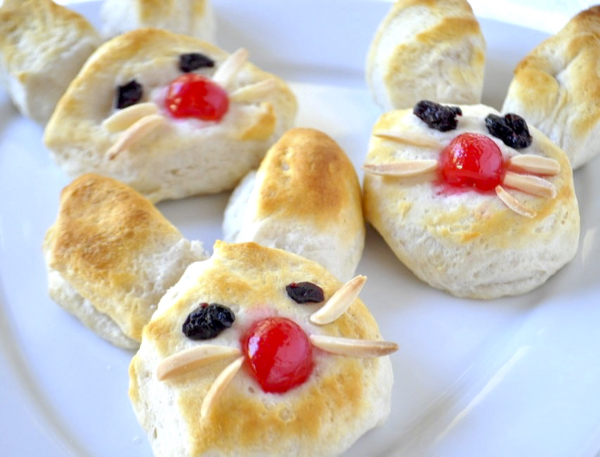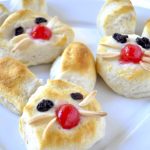 Print Recipe
Easter Bunny Biscuits
Simple ingredients make these fun and easy Easter Bunny Biscuits that make the perfect Easter morning breakfast or anytime treat!
Ingredients
1

10-biscuit can refrigerated biscuits

10

raisins

5

maraschino cherry halves

20

slivered almonds
Instructions
Preheat oven to 450º F.

Place five biscuits on 15 x 10 x 1-inch nonstick baking pan.

To assemble bunny biscuits: Cut remaining 5 biscuits in half, pull a little to form ears.

Press 2 biscuit halves (ears) under top of each whole biscuit to form bunny head.

In each whole biscuit, press in two raisins for eyes, cherry half for nose, two slivered almonds on each side of cherry half for whiskers.

Bake 10 minutes, or until biscuits are done. Serve immediately.
For more brunch and snack favorites, order your copy of Holly Clegg's Too Hot in the Kitchen Cookbook with my favorite Lemon Blueberry Bread!

About Holly Clegg:
Holly Clegg is a culinary expert, author, and blogger. Her easy healthy cookbooks, including the trim&TERRIFIC® and Eating Well series, have sold 1.5+ million copies, and she has been featured on The Harry Connick Show, Fox & Friends, NBC Weekend Today, USA Today, Web MD, Huff Post, and several other media outlets for her expertise. In addition, Holly has consulted for Walmart, Teflon, The Coca-Cola Company, and numerous hospitals across the U.S. She is also a columnist and corporate wellness consultant.
Follow Holly: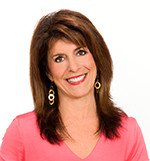 Looking for more delicious recipes? Check these out…
These easy 5 ingredient cinnamon rolls will make you want to wake up and roll out of bed!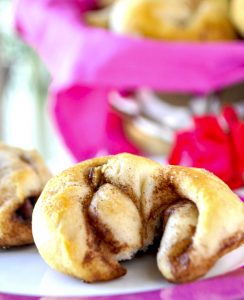 This easy Cranberry Nut Bread Recipe with oatmeal is loaded with delicious cranberries, and is perfectly moist!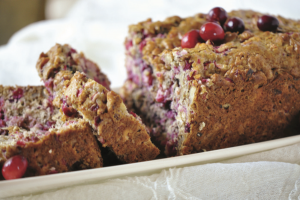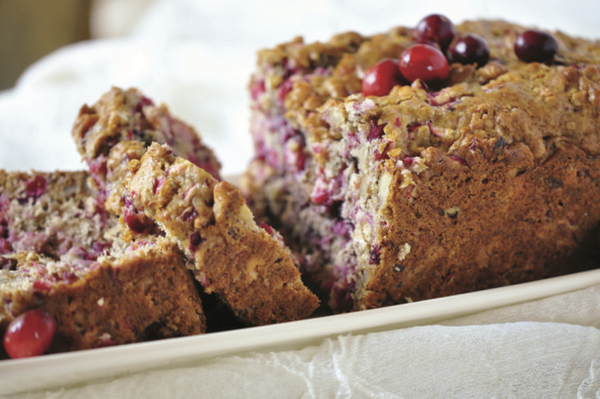 This Crockpot Pulled Chicken recipe is perfect for a fix and forget it delicious meal! The versatility of pulled chicken let's you easily serve sandwiches, sliders or an entrée.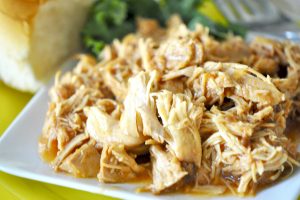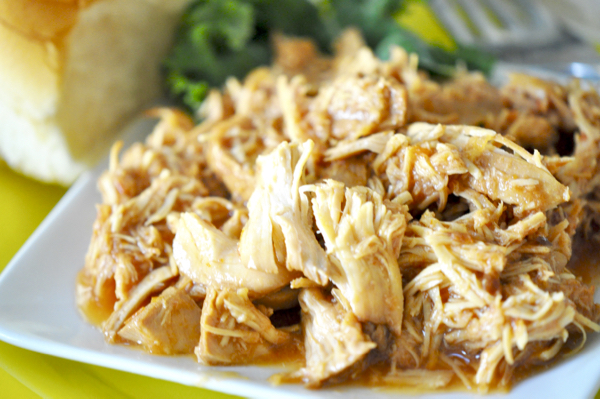 This easy Crock Pot Beef Fajitas Recipe is the perfect solution for busy weeknights! Quick Prep and loaded with savory flavors!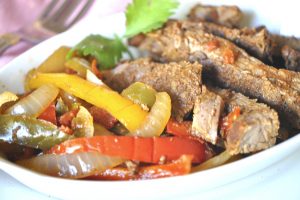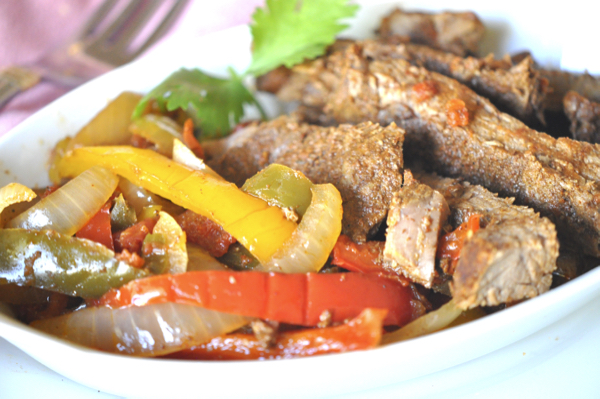 Tried these Easter Bunny Biscuits?
Share with us in the comments below!