I may get
paid
for ads or purchases made through links in this post.
Take back control of your garage with these 18 Easy Garage Organization Ideas and brilliant hacks!
Organize your tools, outdoor gear, and everything else taking over your garage with these 18 smart storage solutions!
These Easy Garage Organization Ideas will transform your cluttered garage into a tidy, organized space in no time! You'll be able to easily walk around, and even park your car in the garage again! No longer will you have to buy something and wonder if you have that same item somewhere in your garage… you'll know what you've got and where you've got it. A place for everything, and everything in it's place!
Are you ready for your garage to be the most organized space in your house?
Let's get started…

Easy Garage Organization Ideas
This Broom, Rake, and Mop Organizer will help to keep your mops and brooms off your garage floor. I love how they keep all of the brooms and mops tidy and organized!

2: Hanging Storage Hack:
Check out this tip for Easy Upcycling Ideas using small glass jars.
Reuse old baby food jars to store small items like nails and screws, nuts and bolts, washers, etc. Just securely attach the jar lid on the underside of a shelf so that you can screw and unscrew the jar from there. Talk about an excellent use of space!
This Retractable Ceiling Mount Extension Cord is such a convenient way to have your extension cord ready when you need it, and out of your way when you don't!
I have personally owned one of these retractable extension cords for years. I love how the power cord effortlessly retracts when I'm done with it. Tidy and such a space saver! Plus, you won't be have to worry about tripping over any extension cords left laying on the floor. Don't ask me how I know. 😉

Having garbage bags handy in the garage is a necessity, and this is the easiest trick to keep them organized! Check out this DIY Grocery Bag Dispenser Trick to make yours!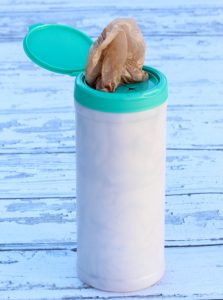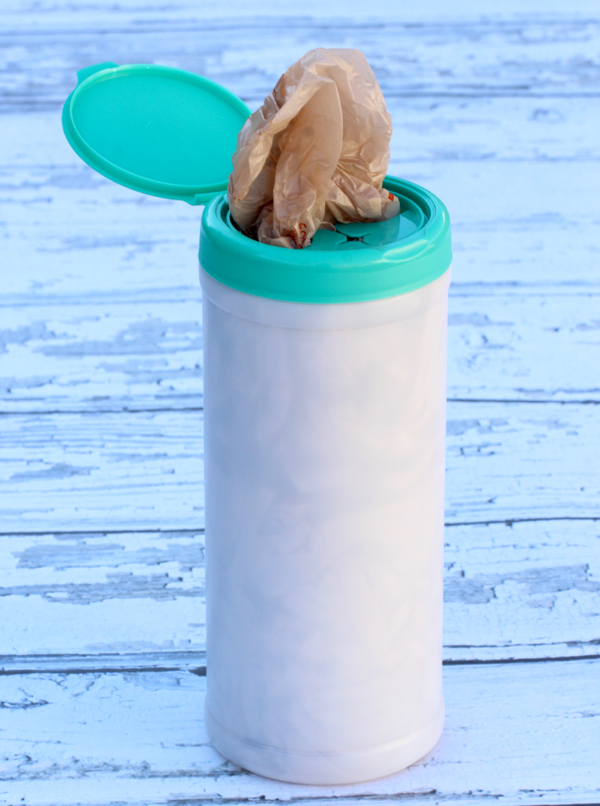 Your garage NEEDS one of these 44-drawer storage cabinets. You can easily mount it to the wall to maximize that wall space! I have had mine for years and absolutely LOVE all of the functionality and storage capacity that these storage cabinets have! The clear drawers make finding what you need a cinch!

Another great way to declutter you garage floor is to hang your bike from the ceiling or wall with these Bike Storage Hooks. I've used bike storage hooks for years, and they're such a simple way to make your garage feel bigger!

Magnetic Tool Holders are another simple way to keep tools organized, while keeping your workbench clear of clutter. Maximizing wall space is such an efficient trick. These magnetic holders will keep your often-used tools organized, visualized, and handy at all times. I love how much space these save!

One of the best ways to quickly declutter your garage is to use these convenient Heavy Duty Storage Bins. I use these bins to store my Christmas Decorations, Sports Gear, Car Washing Supplies, Camping Gear, and so much more!
Easy Tip: When purchasing bins, you can even try color coding them for easy recognition – like Red and Green Bins for Christmas Decor, Orange for Fall, Pink for Girl's Clothing, Blue for Boy's Clothing, etc!

This versatile Garage Pegboard Kit is the perfect way to organize your hammers, paint brushes, gardening tools, and more! I have one in my garage and it's so useful!

Another great use of your wall space is enclosed Metal Garage Cabinets. Not only do they happen to look cool, but you can stash away lots of small things out of sight! I've used these for years… you'll love them!

Even the smallest spaces in your garage can get organized in a jiffy with simple metal racks! I've used these for years as a sturdy solution to hold all of my storage bins. They come in all different sizes, and these durable Metal Storage Racks are perfect for fitting into narrow spaces in your garage.

Organize all of your sports equipment in one place with this all-purpose Sports Equipment Organizer. Such a simple way to keep those balls from taking over! One of my favorite easy garage organization ideas!

This handy basket mounts to the wall to keep all of your bottles and cans tidy and in reach. No more hunting around to find your cleaners!

This Rolling Utility Cart is a great way to keep things organized and handy when working on the car or a project. Perfect for oil changes, regular car maintenance, or odd jobs… just grab and go!

When you have maximized every square inch of floor space and wall space in your garage, don't worry. Just look up! It's time to utilize the often overlooked ceiling space, and let me tell you… you can fit a LOT up there! I love storing my Christmas tree, Christmas lights, Coolers, and Summer Gear bins up on my ceiling rack… it save so much space! This Ceiling Mount Garage Storage Rack is a must-have to greatly increase your garage storage capacity.

Christmas Organization:
I store all of my wreaths in my garage! These Wreath Storage Bags are the perfect way to keep your wreaths safe and protected for dust. Plus… it's always easy to find your Christmas wreath with a festive bright red storage case!

Keep your favorite ornaments safe and snug in your garage with these Christmas Ornament Organizers, complete with individual dividers for extra safe packing!

Toss those bulky Christmas Tree Boxes and save space in your garage with these Christmas Tree Storage Bags!

Looking for more fun DIY Ideas? Get inspired below…
Are you tired of digging around trying to find things in your kitchen? Take your kitchen to the next level in organization with these Genius Kitchen Organization Hacks that will declutter your kitchen fast!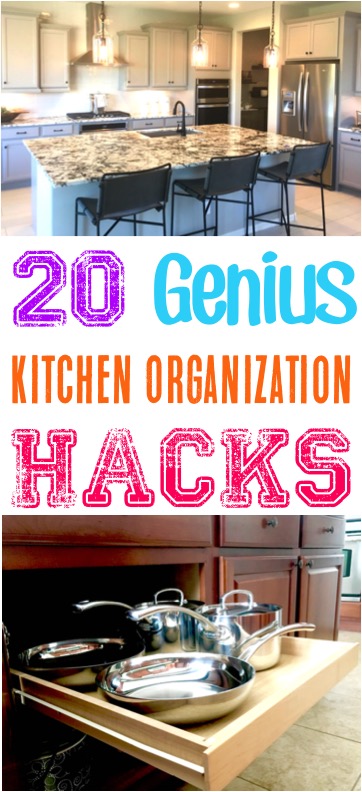 From making DIY candles from oranges to prepping your overall survival kit and emergency water and food supplies, get yourself prepared with these brilliant hurricane prep ideas and tips!

Do you want an easier way to grab some paper towels when you're in the Garage, in your Dorm Room, or at the Campground? This inexpensive DIY Paper Towel Holder Hanger trick is thrifty, quick to make, and works like a charm!

Looking for some creative and sneaky ideas for fun places to hide your jewelry, money, or other valuables? Combine these Money Hiding Tricks with DIY Home Security Tricks and you'll make it very difficult for any potential thieves!

Heading out of town or just looking for some simple ways to make your home more secure? Check out these clever DIY Home Security Tricks!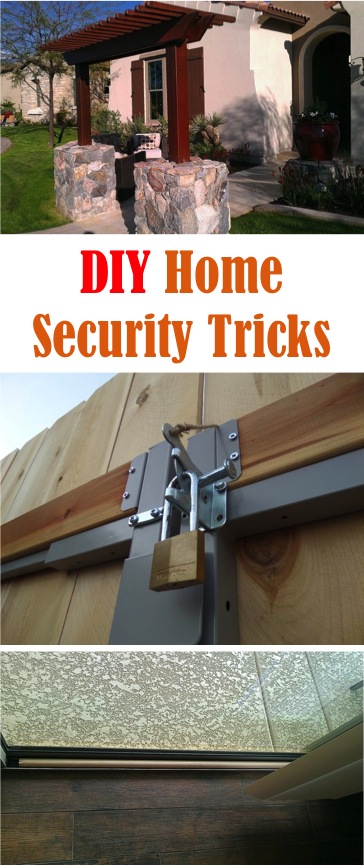 Are you ready to get back out in your garden? Or are you looking to start a DIY project? Stretch your budget this month with these clever tricks for how to shop at Home Depot for free!

Orange Peel Candles? Yes, it's true! This little orange peel candle experiment works like a charm! It's the perfect DIY trick when you're out of candles! If the power ever goes out and you're low on candles, this DIY Orange Peel Candle is the perfect solution.

Heading out to the woods soon? Camping is always an adventure… and these 29 Best Camping Gear Tips and Easy Hacks are some of my favorite things to do and have on hand when camping!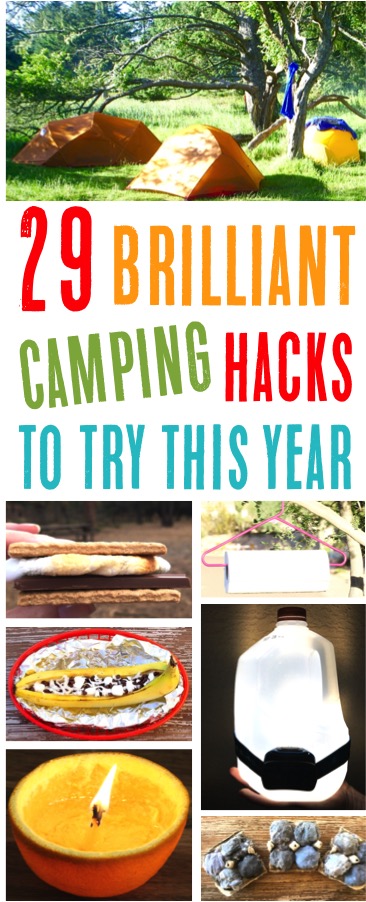 Do you ever have a hard time trying to start a fire from scratch? This Easy Fire Starter makes starting a fire a breeze! The combination of dryer lint and wax in these homemade fire starters are the perfect way to get your fire going quickly!

You can never predict those nights when the power will go out, but you'll love having this Altoid Tin Candle on hand! It's the ultimate compact survival essential for those unexpected emergency situations!

Skip those smells with just a few sprays of this easy copycat DIY Lavender Poo Pourri Recipe!

Do you have your Homemade Survival Kit ready?? Nobody ever plans to be in a survival situation, but when the unexpected actually happens, you'll give yourself a little pat on the back and thank yourself for planning ahead! These kits are great to take Camping, too.

Did you know Altoid Tins also made great little survival kits? These Mini Survival Kits are quick and simple to make, and the perfect addition to your hiking backpack, camping gear, or your car's glovebox.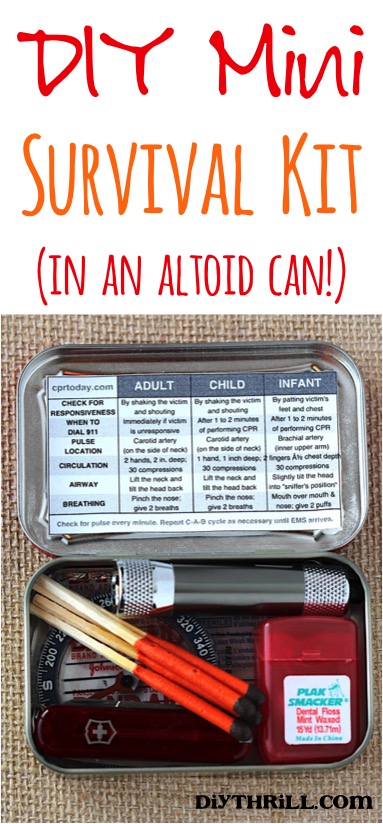 This clever repurposing trick creates a soft light that's perfect for reading, playing a game of Scrabble or cards at the campsite, or illuminating the inside of your tent. How cool is that?!

Easy Garage Organization Ideas
Do You Have any Garage Organization Tips or Tricks? Share with us in the comments below!
So don't miss out! Join us to get the latest DIY Thrill Projects, Easy Recipes, DIY Hacks and more right here…