I may get
paid
for ads or purchases made through links in this post.
Get your kitchen organized and triumph over clutter with these Genius Kitchen Organization Hacks!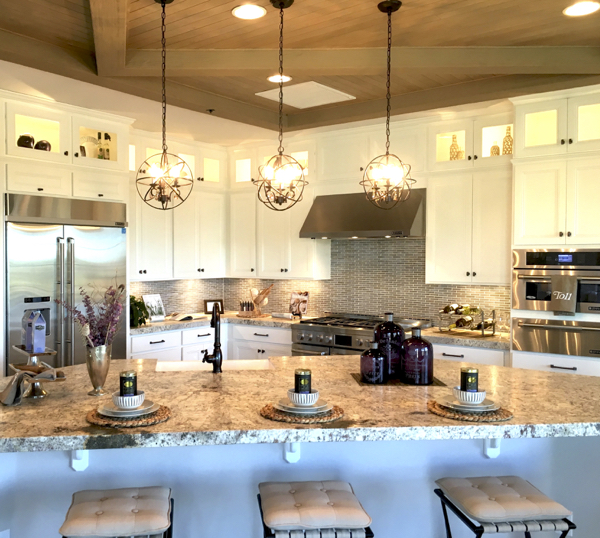 Are you tired of digging around trying to find things in your kitchen?  Take your kitchen to the next level in organization with these
Genius Kitchen Organization Hacks
that will declutter your kitchen fast!
These easy Organizing Tips will help you add storage, get organized, and whip your kitchen into shape without spending a fortune!  Kitchen organization is not as hard as you may think.  Trust me, these easy tips and tricks will do wonders!
So, are you ready to eliminate clutter and take back control of your Kitchen?  Go check out these easy hacks below…

Genius Kitchen Organization Hacks
Would you like to instantly double the storage space in every kitchen cabinet?  Add kitchen pull out drawers!  It's easier than you might think, and you can add kitchen pull out drawers to as few or as many cabinets as you would like.  Pictured below are the ones I have in my cabinets.  I can now store 2 pots and 2 pans directly above my crockpots!  I LOVE how much storage space these pull outs add!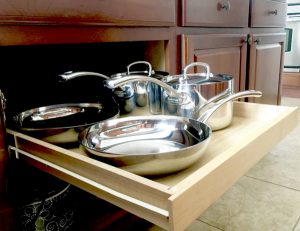 Maximize your wall space!  Rather than cluttering up your drawers with knives or storing a knife block on the counter, this Magnetic Knife Bar is a great way to organize your knives and add a clean and professional feel to your kitchen.  Simply hold your knife up next to the bar, and the strong magnetic force will keep it in place!  How easy is that?

Free up valuable counter space with an under the cabinet hanging Banana Hook!  When not in use, the hook folds flat, disappearing from sight!

Don't have a lot counter space or as many cabinets as you'd like in your kitchen?  You can easily add counter space and extra storage to your kitchen with a Portable Kitchen Island!  I prefer the ones on wheels, like this one below… that includes a drawer, two-door cabinet, countertop, and towel rack!

Keeping the clutter out of the kitchen should be a top priority.  If your countertops are always cluttered (think mail, purses, keys, etc.), add a wall storage rack to your entryway and stop clutter at its source.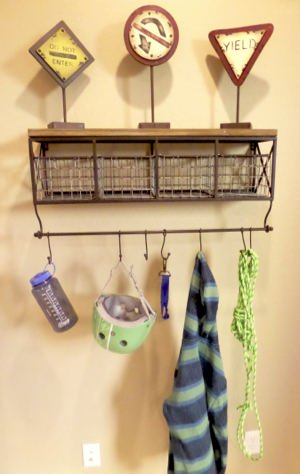 Could your pantry use some extra space?  Just hang this door rack on the back of your pantry door and you instantly have more storage space for spices, seasonings, cans, jars, and bottles.

Another smart way to free up counter space is to store your produce in a hanging basket.  It's a great storage solution and will look great in your kitchen!

Show off your favorite cookware with a Hanging Rack for Pots & Pans!  Not only will you free up huge amounts of counter and cabinet space, but it will make such a fun statement in your kitchen, too!

Are grocery bags taking over your kitchen?  Take control of the clutter with this easy DIY Grocery Bag Dispenser!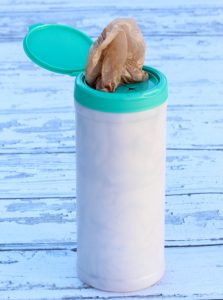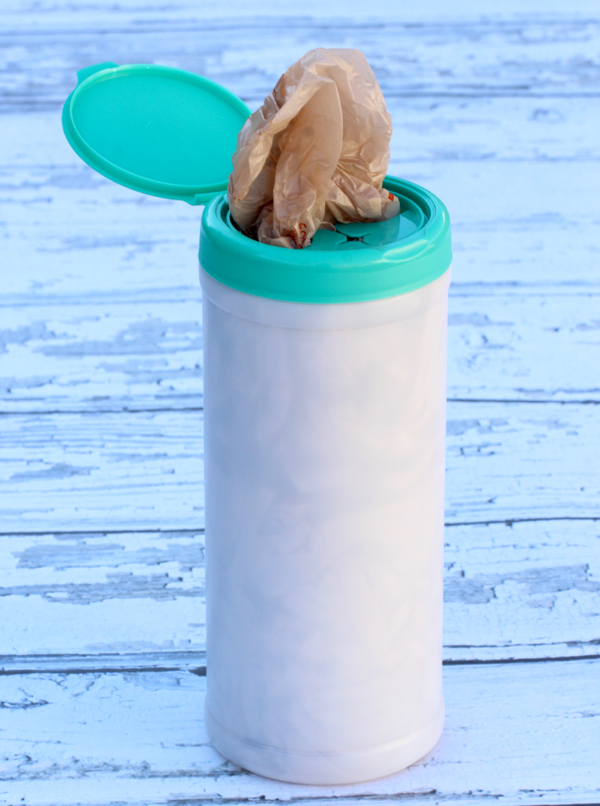 Utilize the wasted space behind your kitchen cabinet doors with an over the cabinet door organizer rack!  You can stash away cutting boards, bakeware pans, cookie sheets, and more all tidy and out of sight!

This Can Rack Organizer is a game changer, and a must-have in your pantry or food cupboard.  You can easily see and grab what cans you need… so much easier then stacking!

Keep the paper clutter out of the kitchen with a trendy Chalkboard Sign!  It's a great place to jot down messages, the weekly menu, or notes, like that ever-changing grocery list.

A place for everything and everything in its place is the name of the game when it comes to kitchen organizing!  The rubber lining of this tray keeps silverware in place so it doesn't slide around in your drawer.  I've been using this tray for years and I love it!

I have two of these spice organizers in my kitchen cabinets and let me tell you, they're a lifesaver!  With so many spices and seasonings, the 3 tiers lets you easily read the labels on all of your spices!  No more reaching around and guessing where that cinnamon or steak seasoning is!
Related: DIY Grilled Steak Seasoning Mix Recipe

In addition to holding all of your oversized cooking utensils and freeing up storage space in your drawers, this Wide Mouth Mason Jar Organizer adds stylish décor to any kitchen! Bonus: no more potato mashers and extra large ladles getting stuck in those drawers!

Under the kitchen sink can be a scary place, can't it?  Take control of that clutter down there with this Sink Cabinet Organizer!  It's a great way to tidy up that difficult "under the sink" area in your kitchen, and the perfect place to store extra sponges, soaps, and dish soaps!

Are you ready for another fun way to utilize your kitchen wall space?  Turn your kitchen into a self-serve custom breakfast bar with Wall Mounted Food Dispensers!  It's super fun and uses ZERO counter or cabinet space!  It will feel like you're on a fancy vacation at a hotel breakfast every morning!

Every kitchen needs extra food storage containers for leftovers, but they sure can take over quickly, am I right?  I use these Rubbermaid Food Storage Containers and stack like sized containers together.  When not in use, the lids can also stack up together, so they take up way less cabinet space!!  Bonus: no more lost lids!

The revolving storage space on this Lazy Susan maximizes cabinet space and helps to keep your kitchen organized and tidy.  Just spin and easily spot what you're looking for!  It's perfect for spices, jars of different heights, etc.

Why leave your garbage out in the open when you can conceal it behind your cabinets?  These Pull-Out Waste Containers fit both your recycling can and garbage can behind one cabinet!  Talk about a great use of space!

Now that you've got a plan to get your kitchen clutter under control, it's time to tackle the mess out in the Garage!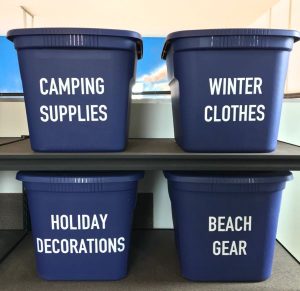 Check out more fun DIY ideas below…
Heading out of town or just looking for some simple ways to make your home more secure? Check out these clever DIY Home Security Tricks!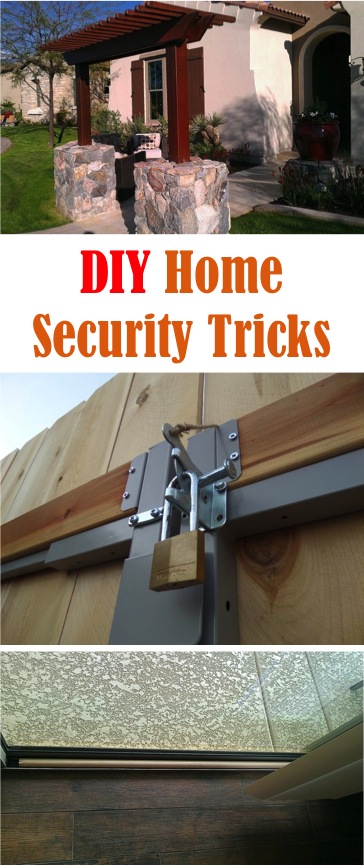 Looking for some creative and sneaky ideas for fun places to hide your jewelry, money, or other valuables?  Combine these Money Hiding Tricks with DIY Home Security Tricks and you'll make it very difficult for any potential thieves!

From making DIY candles from oranges to prepping your overall survival kit and emergency water and food supplies, get yourself prepared with these brilliant hurricane prep ideas and tips!

Are you ready to get back out in your garden?  Or are you looking to start a DIY project?  Stretch your budget this month with these clever tricks for how to shop at Home Depot for free!

Check out some more of my favorite DIY Home Security Tricks for keeping your front door more private!

Skip those smells with just a few sprays of this easy copycat DIY Lavender Poo Pourri Recipe!

Do you ever have a hard time trying to start a fire from scratch?  This Easy Fire Starter makes starting a fire a breeze!  The combination of dryer lint and wax in these homemade fire starters are the perfect way to get your fire going quickly!

Nobody ever plans to be in a survival situation, but when the unexpected actually happens, you'll give yourself a little pat on the back and thank yourself for planning ahead! That's right… it's time to make your very own Homemade Survival Kit!  These also make great gifts for friends and family!

So don't miss out!  Join us to get the latest DIY Thrill Projects, Easy Recipes, DIY Hacks and more right here…