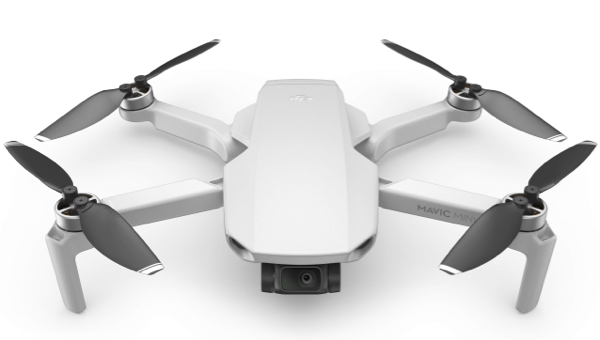 A BIG thank you to Best Buy for sponsoring today's post.
Are you wondering how to take mind-blowing arial photos?  Drone photography has exploded in popularity over the past few years, and capturing amazing pictures and videos from the air is easier than ever.  If you're looking to enhance your photography capabilities, you've got to check out the new DJI Global Mavic Mini!
Read on to discover some of the advanced and innovative features the new DJI Global Mavic Mini photography drone has…
How to Take Mind-Blowing Arial Photos
So, what are some of my favorite features?
Dedicated Remote Controller:
How would you like to view real-time arial footage right on your remote?  With the Mavic Mini, you can!  This brilliant remote controller maintains an HD, low-latency video feed at a distance of up to 4 km so you can see exactly what your Mavic Mini sees!
I also love the clever touches like detachable control sticks that can be easily stored inside the remote controller for added portability.
Advanced Camera Features:
Are you wondering how to capture those crystal clear arial pictures you see and love?  The DJI Global Mavic Mini has a 3-axis motorized gimbal camera that ensures clear and ultra-smooth footage.  The camera also supports 12MP aerial photos and 2.7K Quad HD videos.
With this powerful camera, you can easily transform any moment into a work of art!
Extended Flight Time:
How would you like less time spent charging batteries and more time spent flying?  The Mavic Mini's lightweight build allows it to stay in the air longer than similar consumer FlyCams on the market.  You can enjoy up to 30 minutes of flight time with a fully-charged battery.  How nice is that?!
Cinematic Features:
Want to create complex shots that look like they came from a movie?  Take your footage to the next level with Mavic Mini's QuickShot modes, which include Dronie, Circle, Helix, and Rocket.  Just select your QuickShot and Mavic Mini will execute an elaborate preset motion while recording.  You can take the automatically generated short video and share it instantly with all of your friends on social media!
In CineSmooth Mode, you can slow down Mavic Mini's flight speed and movements for an added layer of precision and stability.  This mode is especially useful when flying in narrow or complex spaces.
Discover Popular Spots:
So are you wondering where the best spots in your area are to capture those amazing photos?  The DJI Fly app gives you access to SkyPixel, which is a social media platform for DJI users to share their aerial photos and videos. You can share your own work, browse others, and even discover some popular aerial photography spots in your area!
So, now that you know How to Take Mind-Blowing Arial Photos, go learn more and check out the DJI Global Mavic Mini at Best Buy.
So don't miss out!  Join us to get the latest DIY Thrill Projects, Easy Recipes, DIY Hacks and more right here…