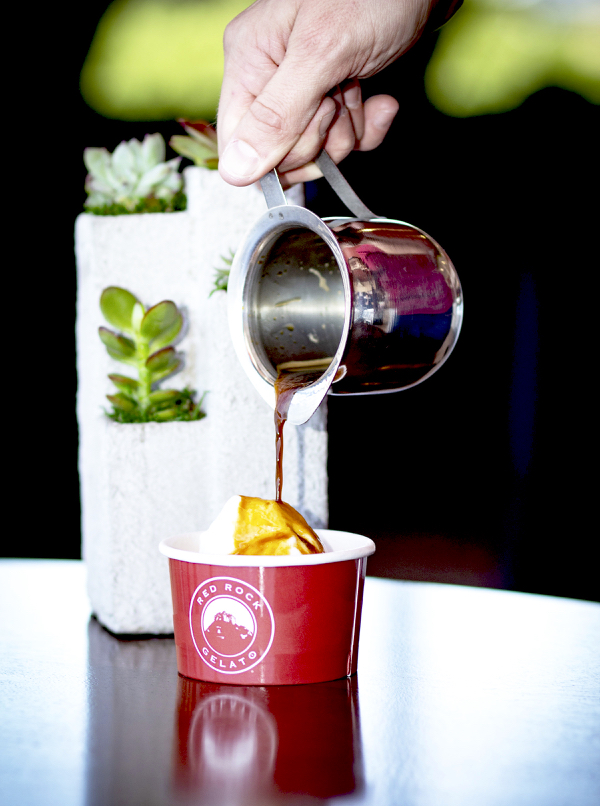 A BIG thank you to Red Rock Gelato for sponsoring today's post.
Do you love gelato as much as I do?  Let's be honest, gelato can be pretty addicting, am I right?  A few years ago when I traveled to Italy, I instantly fell in love with gelato.  There's just one problem, authentic Italian style gelato is almost impossible to find in the United States!  Red Rock Gelato to the rescue!
Unlike some ice cream and gelato shops that simply add water or milk to a pre-made base, Red Rock Gelato uses premium ingredients sourced directly from Italy.  The result?  Decadent gelato that's rich, creamy, smooth and over-the-top delicious!  Read on to discover my Top 10 Reasons to Visit Red Rock Gelato in Sedona, Arizona…
Top 10 Reasons to Visit Red Rock Gelato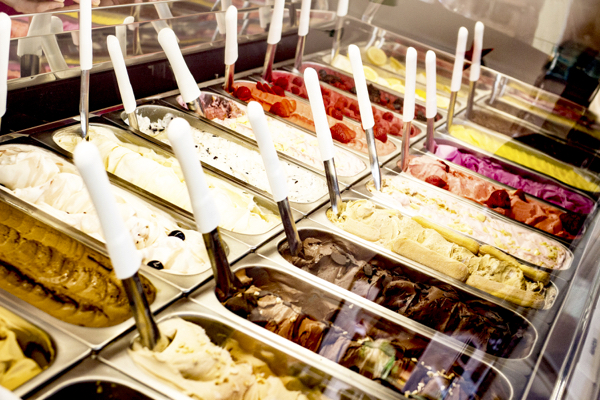 Here are the Top 10 Reasons to Visit Red Rock Gelato…
1. It's The Real Thing. Master Gelato Chef Carl studied the art of gelato-making from an Italian woman who insists on making it the Italian way, with all natural ingredients.
2. There are More Than Two Dozen Flavors to Choose From. With over 2 dozen flavors, including six vegan-friendly options, there are flavors for everyone's tastes and preferences.  See the full menu HERE.
3. It is Made From Scratch in Small Batches. Red Rock Gelato is not a chain, so every flavor of gelato and sorbetto is made from scratch in small batches.  It's quality you can taste!  Every bite of this irresistible authentic gelato is pure Italian bliss!
4. You Can Put More Than One Flavor in Each Serving. With so many delicious flavors of gelato and sorbet to choose from, it can be hard to decide what flavor to put in your cup.  Get creative and combine your favorite in one cup!
5. You'll Love Their Signature Flavor! Red Rock Gelato's signature flavor is Strada Rocciosa Rossa / Red Rocky Road Gelato.  It's a smooth red velvet gelato with crushed graham crackers and white chocolate chunks inspired by the red rocks of Sedona.
6. They Have Dairy-Free Options. Red Rock Gelato has several dairy-free and vegan-friendly sorbetto options.  Their flavors are smooth-churned, resulting in a creamy texture – without any cream or milk!
7. Ingredients are Imported From Italy. Did you know, Red Rock Gelato uses premium ingredients sourced directly from Italy?  Even their gelato machine and display case were imported from Italy!
8. You'll Love the View! After you order your gelato, you can even experience the stunning natural beauty of Sedona with outside seating that faces Coffeepot Rock!  The view is breathtaking!
9. Convenient Location. Red Rock Gelato is located in the Harkins Theater plaza, making them a great pre or post-movie treat!  Unlike most other food establishments in Sedona, Red Rock Gelato stays open until 10 PM, so you can catch that 7 pm movie and stop in after the show for a great date night!
10. They Always Have Something New. Red Rock Gelato always has creative new flavors that are influenced by fresh seasonal ingredients.  For example, they recently had Cucumber Mint Sorbetto and Coconut Gelato.  Yum!
If you're traveling to Sedona, AZ soon, make sure you stop by Red Rock Gelato and try some of their authentic Italian gelato.  You'll be so glad you did!  It's the ultimate treat yourself indulgence and a great reward after a long day of hiking!
Here's where you can find Red Rock Gelato:
2055-A West State Route 89A
Sedona, AZ 86336
In the Harkins Theater Plaza
So don't miss out!  Join us to get the latest DIY Thrill Projects, Easy Recipes, DIY Hacks and more right here…