A BIG thank you to The Honey Baked Ham Company for sponsoring today's post.
Are you looking for a fun way to spoil Mom this Mother's Day?  Surprise Mom with her very own Mother's Day Feast – breakfast, dinner, and dessert!  Cooking an entire meal can be daunting and stressful, so take the guesswork out of Mother's Day this year by letting Honey Baked Ham do all the work!  They make gourmet meals easy with their delicious hams, fancy side dishes, and fabulous desserts!  Plus, the best part about staying home is that you'll be able to avoid the crowds at the restaurants and spend more time with Mom.
Simply stop by your local Honey Baked Ham Store and pick up your honey baked boneless ham and complete your meal with their premium sides & desserts!  From breakfast in bed to dinner and dessert, here's how to Surprise Mom with the ultimate Mother's Day Feast…
Surprise Mom with a Mother's Day Feast
1) Serve Orange Rolls for Breakfast
Made from a family recipe, these orange rolls are created from scratch using the best natural ingredients including fresh orange juice and zest.  Topped with an irresistible icing, these rolls are the perfect way to start Mother's Day!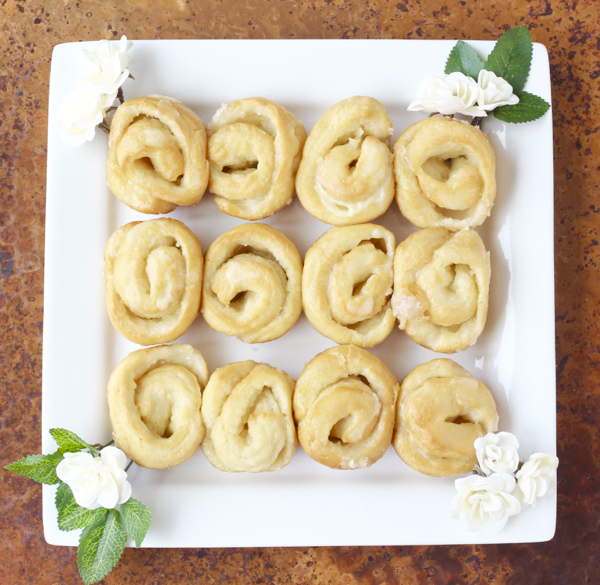 2) Serve Honey Baked Boneless Ham for the Main Course
For the main star of the show, serve the legendary Honey Baked Boneless Ham, which is an easy and casual crowd pleaser.  The Honey Baked Boneless Ham is mildly smoked for up to 10-11 hours for a lighter taste.  It's always perfectly lean, moist and tender.  The one thing I really love about this ham is its hand-crafted sweet, crunchy glaze that gives it a unique sweet taste.  Plus, it's so easy to serve since the ham is already sliced and ready to enjoy.  How nice is that?!
3) Complete Your Meal with Premium Sides
HoneyBaked also offers heat and serve side dishes, which makes meals even easier!  These sides feature delicious recipes that Mom is sure to love!  These HoneyBaked sides are the perfect complement to every meal.  My favorites are the Broccoli Bacon Bliss Salad and Loaded Smashed Potatoes.  They're beyond delicious!
4) Finish with a Scrumptious Dessert – Like the Triple Chocolate Cake!
HoneyBaked has a wide variety of delicious cakes and cheesecakes to choose from, so finding the perfect dessert won't be hard at all!  My absolute favorite is the decadent Triple Chocolate Cake!  This scrumptious chocolate cake has a smooth chocolate filling, chocolate ganache icing, and is topped off with delicious Belgian chocolate shavings!  Who can say no to triple chocolate?  All you have to do is take it out of the box and serve.  It doesn't get any easier than that!
So are you ready to surprise Mom with the ultimate Mother's Day Feast she'll remember for years to come?
Learn more about Honey Baked Ham, and find your local store HERE.
So don't miss out!  Join us to get the latest DIY Thrill Projects, Easy Recipes, DIY Hacks and more right here…