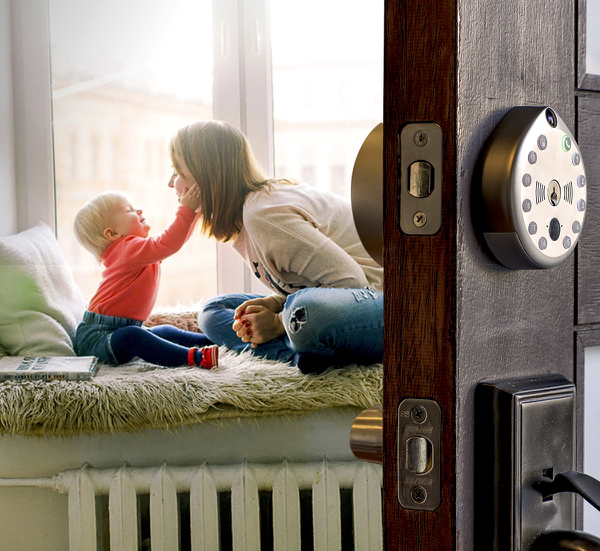 A BIG thank you to Gate Labs for sponsoring today's post.
Are you looking for an easy way to upgrade your home security?  Protect your family and your home with Gate: The all-in-one, camera smart lock!  The Gate Smart Lock equips your door lock with a camera, doorbell, keypad, and motion sensor.  With the Gate Lab app available on iOS and Android, you can manage who is entering your home from anywhere!
Everything else we have is smart: smart TV, smart phone… so why not a smart lock?  Instead of having to dig around for your keys to unlock the door, simply type in your PIN code or swipe to unlock from the app.  It's so much easier!  Another great feature of this smart lock is the built in camera.  If you hear anyone outside your door, all you have to do is look on the app to see who's at the door!  How cool is that?!
Here's another great feature.  Have you ever forgotten to check the doors to make sure they are locked before you leave?  So have I!  Thankfully, the Gate Smart Lock lets you unlock/lock your doors from anywhere you have an internet connection.  This wifi door lock with camera is a great way to have peace of mind no matter where you go.
Read on for more information for how to upgrade your home security with smart locks…
How to Upgrade your Home Security with Smart Locks
I'm all about easy DIY fixes around the home, and what I love about the Gate Smart Locks is that any homeowner can make this easy DIY upgrade!  It installs in just minutes – no wiring required!  The Smart Lock then connects to your home Wi-Fi and remains powered by a rechargeable lithium-ion battery.
Some of my favorite features of this smart lock with camera include…
See who's at your door:
Live, real-time video is streamed immediately to your smartphone.  Your videos can be stored and shared for up to 30 days with Gate Lab's Premier Service Plan.
Say hello and start a conversation:
With two-way audio you can personally welcome guests or give last minute instructions to a service provider.  Also, when someone outside hits the doorbell call button on the LED keypad, it will call your phone.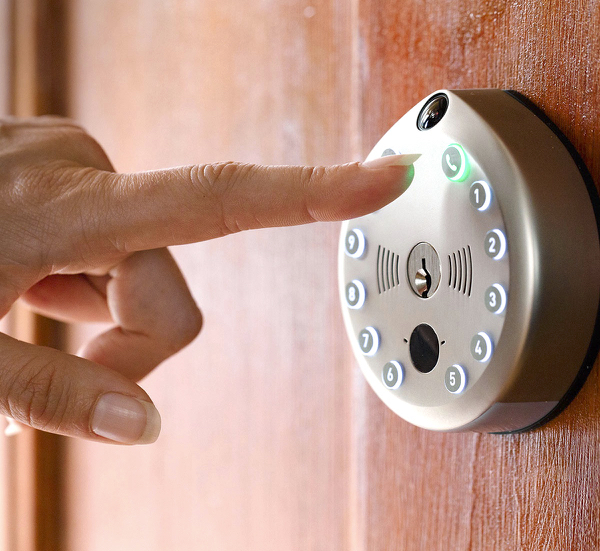 Keyless entry for trusted individuals:
This smart lock also allows you to give individuals you know and trust personalized PIN codes. The codes can be deleted and changed when necessary.  You can also receive alerts on your phone so you'll know exactly who comes and goes…and when.
This way you can easily control who has access to your home and everyone can have their own pin number, from the kids to the pet-sitter and the housekeeper.  It's the ultimate in secure keyless entry!
Unlock your door remotely:
Have you ever struggled to unlock your front door with your arms full of groceries?  Yep… so have I!  The Gate Smart Lock allows you to unlock your front door remotely with just a single swipe from your smartphone.  Have visitors?  Don't keep them waiting while you're cooking in the kitchen.  Unlock your door from your smartphone and let trusted visitors in!
Talk about a versatile door lock!  Want a sweet deal??  Get 10% off your entire order with promo code: DIYTHRILL10
Learn more about the Gate Smart Lock, and get yours HERE.
So don't miss out!  Join us to get the latest DIY Thrill Projects, Easy Recipes, DIY Hacks and more right here…