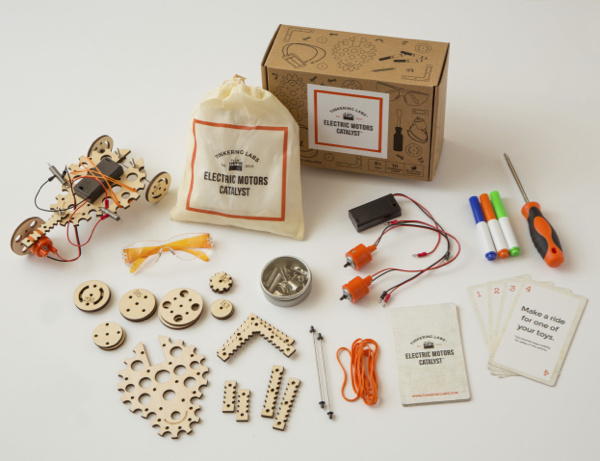 A BIG thank you to Tinkering Labs for sponsoring today's post.
Are you looking for that special gift your kids will love?  Tinkering Labs has got you covered!  They offer the ultimate STEM experience for curious little minds, and provide hours and hours of enjoyment!
One of my favorite products they offer is the Electric Motors Catalyst Kit!  It gives kids a fun way to build stuff without having to worry about getting it "right."  The Tinkering Labs kits provide STEM-based challenges to help get kids out of a rigid, model-building mindset, and into open-ended play.
With the Tinkering Labs Electric Motors Catalyst Kit, your kids will be encouraged to innovate, problem solve, and develop high-level thinking skills.  Are you ready for the best part?  The Electric Motors Catalyst Kit is not just a one-time activity or a single project.  Your kids can build and rebuild endless robotic creations all with this one single kit!
For example, your kids can "make a machine that can scramble an egg," or "build a creature with spinning arms."  It's the ultimate gift for girls and boys ages 8 and up!
Why Tinkering Labs Kits are STEM Learning at its Best!

The Electric Motors Catalyst is also a great way for your kids to have fun while developing their STEM skills: Science, Technology, Engineering, and Mathematics.  It's the perfect gift for aspiring engineers & tinkerers, kid-tested, parent-approved!  This DIY kit with 50+ parts includes 10 challenge cards, wood, electric motors, and hardware.
Kids can even get creative and add the motors to model cars and even Legos!

Where to Buy Your Electric Motors Catalyst STEM Kit:
The Electric Motors Catalyst is available on Amazon HERE, or buy direct from Tinkering Labs HERE for $55.00!
So… what are you waiting for?  Go check some more gifts off your list today with the Electric Motors Catalyst STEM Kit!  It's so much fun to give… and SO fun to receive!
So don't miss out!  Join us to get the latest DIY Thrill Projects, Easy Recipes, DIY Hacks and more right here…