Thank you to Rainmaker Collective for sponsoring this post.
A portable air compressor is one of the most versatile tools you can have. What sort of things can you do with a compressor, and why should you have one in your garage or tool shed? We've taken the time to list 17 reasons why every homesteader should have a portable air compressor in their home.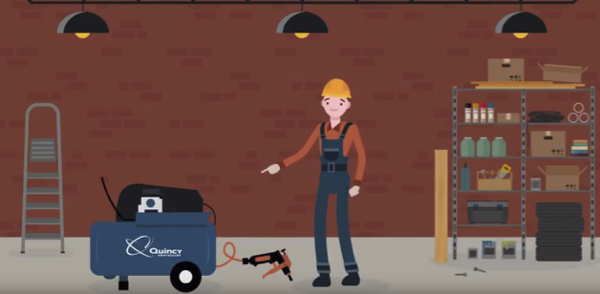 1. Keep your tires inflated. Whether it's your car, your tractor, or your wheelbarrow that's getting low on air, a portable air compressor can be used to refill them all.
2. Power your nail gun. If you like working with wood, an air powered nail gun can make the job infinitely easier — plus they're cheaper than battery powered nail guns!
3. Power your air stapler. Keeping your fences repaired can be a nightmare if you have to staple each piece by hand.  An air powered staple gun can make even pulling new fences a breeze.
4. Never buy another can of spray paint. An airbrush can do everything spray paint can do, without any waste.  Plus, it's much easier to blend colors to get that perfect shade for any project.
5. Clean up after any project. An air nozzle connected to a portable air compressor is a great tool for cleaning up dust, dirt and project residue.  Just make sure never to direct the air stream at any living creature — high pressure air can be dangerous and cause injury.
6. Keep your car running. Air powered tools, such as hammers or impact wrenches, can make any car repair job simpler.  You don't have to worry about busting your knuckles when you break a stubborn bolt free anymore.
7. Make it snow! If you're craving a white Christmas but Mother Nature isn't cooperating, hook up your air compressor to a pressure washer and make your own snow!
8. Refill your tanks. This might require some additional equipment, but if you're a diver a portable air compressor can be useful for refilling your air tanks before your next trip to the beach or river.
9. Clean everything — with water. Some pressure washers require the use of an air compressor to function properly, so if you have a compressor you can make the outside of your house look good as new with a pressure washer.
10. Clean everything — with sand. Sand blasters are powered by compressed air as well, and can be a fantastic tool for cleaning rust or corrosion off old metal pieces and well used equipment before refinishing.
11. Weed your garden.  Compressed air, when paired with finely ground organic material like nut shells or fruit pits, can be a very effective weed killer.  You're literally blasting the weeds to pieces, while adding organic compostable material to your fields for nourishing other plants.
12. Clean your keyboard. Keyboards collect dust, skin cells, and stray bits of food (if you eat at your computer) and they're nearly impossible to clean. A bit of compressed air and you're keyboard is as good as new.  Just be careful how you aim your air gun though — too much air can pop the keys right off!
13. Bolster your barbeque. This takes some practice but if you're having trouble getting your barbeque grill to light, try stoking the fire with some compressed air. You'll have a roaring inferno perfect for cooking in no time!
14. Be a hero to your kids.  Inflatable toys, pools, and balls all tend to go flat at the most inopportune time. Instead of hauling the crew to the nearest gas station, you can inflate or reinflate all their toys in the comfort of your own home.
15. Make a battery. This takes a bit of mechanical knowhow, but compressed air can actually be used to create electricity.  Compressed air is driven into a chamber — the more densely packed the air molecules, the hotter they get and that heat can be converted into electricity.  Los Angeles is looking into using these to offset need during their heaviest use times.
16. Keep your fish healthy.  Aquaculture can be a great addition to any farm or homestead. Using compressed air systems as part of your aquaculture set ups allows you ensure that there is more air in the system, ensuring that they can breathe.
17. Skin a deer.  This might be an odd addition to this list, but you can also skin a deer using an air compressor.
However you plan to use your air compressor, please make sure you abide by these safety tips by Quincy Compressor.
There isn't much that you can't do with a portable air compressor.  If you come up with any new ideas, let us know!
Thanks again to Rainmaker Collective for sponsoring this post.