Craving an icy cold drink?  You'll fall in love with this outrageously delicious Lemonade Slush Recipe!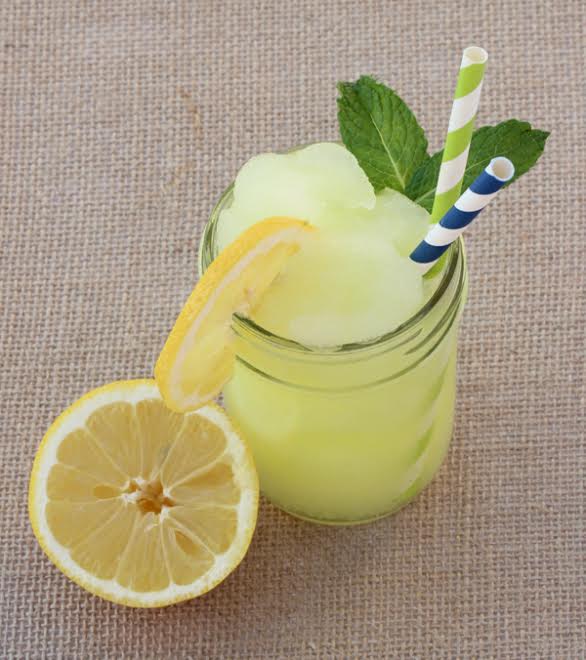 Craving a Slushie that will refresh you any day of the year?  This Lemonade Slush Recipe is so easy to make and super delicious… a must for all lemonade lovers!
Prepare to taste the best frozen lemonade ever!
Related: 
Lemonade Slush Recipe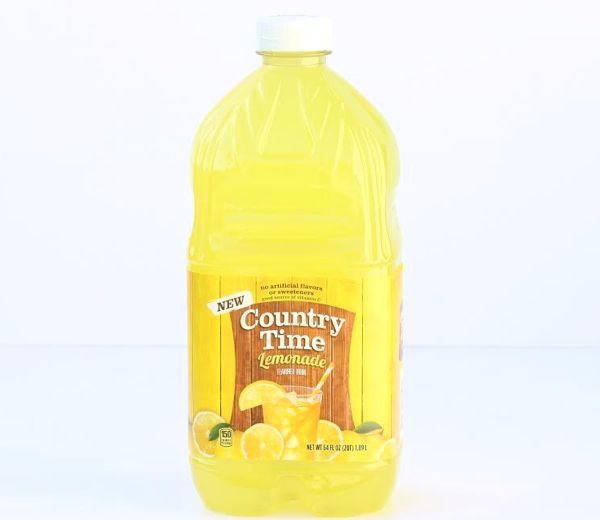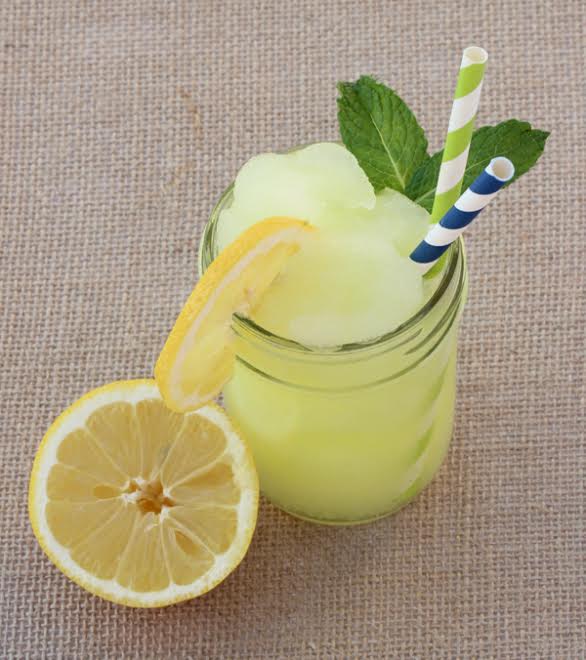 Lemonade Slush Recipe!
Ingredients
3 cups Lemonade
4 ice cubes
Instructions
Pour 1.5 cups Lemonade into an ice cube tray and freeze overnight.
Place remanding 1.5 cups Lemonade in refrigerator to chill.
Once Lemonade cubes have frozen, transfer to blender.
Then add 1.5 cups chilled Lemonade to blender + 4 ice cubes.
Blend until well combined and slushy, transfer to glasses and enjoy!
Yum
What You'll Need for This Recipe:



Craving more delicious Recipes?  Get inspired below…
This easy Green Punch Recipe is perfect for just about any occasion… serve it on Christmas as a festive Grinch Punch, serve it on Saint Patrick's Day as a Green Drink, or serve it on Game Day or Graduation for green team colors!
If you need an easy beverage to take to the party, look no further!  This easy Harvest Party Punch Recipe is such a fun drink to serve at fall parties and Thanksgiving day feasts!  Even better, you'll only need 3 ingredients!

Enjoy a little taste of the tropics with this easy Tropical Slush Recipe! This delicious Tropical Slush is the perfect way to cool down on a hot day, but is sure to refresh you any day of the year! You are about to develop a fresh crush… on this amazing slush!

Looking for a refreshing beverage that is seriously easy to make?  Skip a trip to the convenience store and beat the heat at home with this thirst-quenching Cherry Slush Recipe!

This Tropical Party Punch Recipe is has such a fun tropical vibe that will create a little paradise for your taste buds.  The best part?  It's just 3 ingredients, and you've got the hit of the party!

Got a party coming up?  This Strawberry Punch Recipe is so simple to make and the ultimate party drink to serve up at your next get-together!  Who can resist a sparkling punch infused with strawberries and ice cream?  I sure can't!

Now are you ready to meet my favorite new shake?  Let me introduce you to Strawberry Coconut bliss!  That's right… this Strawberry Coconut Protein Shake Recipe is like a little splash of fruity tropical heaven!  Simple to make and oh-so delicious!
You've just come across your new favorite summer go-to beverage… this Red Bull Slushie Recipe! It's one part ice cold deliciousness, one part Red Bull pick-me-up. Two simple ingredients to give you the ultimate summer kick in the pants!
Are you looking for that perfect dessert you can make on your upcoming camping trip? This Campfire Banana Boats Recipe is crazy delicious and the ultimate dessert! Just 4 easy ingredients and you've got some seriously delicious dessert.

Looking for a tasty way to cool down on a hot day? These 19 Easy Summer Drink Recipes are so simple to make and the frozen chill will cool you off in no time!  Get ready for some seriously delicious summer refreshment!

Find more fun DIY Tips and Tricks here…