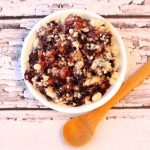 Print Recipe
Blackberry Dump Cake Recipe
Why make dessert complicated? This Easy Blackberry Dump Cake Recipe has just 3 ingredients, and delivers some serious flavor!
Preheat oven to 350 degrees.

Spray inside of glass or ceramic 9x13 casserole dish with nonstick cooking spray, and set aside.

Dump cans of Blackberry Pie Filling into bottom of baking dish, and spread evenly.

In a medium mixing bowl, combine dry Vanilla Cake Mix and melted Butter, and stir until crumbly. (break up large chunks into small crumbles using a spoon)

Pour butter/cake crumble mixture over the Blackberry Pie Filling layer in the baking dish.

Bake for 30 minutes, or until sides are hot and bubbly.

Serve up with some Whip Cream or a scoop of Vanilla Ice Cream and enjoy!