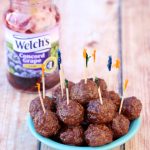 Print Recipe
Crockpot Grape Jelly Meatballs Recipe
Looking for an EASY Appetizer for your next Party, Shower, Game Day, or Holiday get together? This 3 Ingredient flavor-packed Crockpot Grape Jelly Meatballs Recipe is perfect for any occasion!
26

ounces

Fully Cooked Frozen Meatballs

12

ounces

Heinz Chili Sauce

1 bottle

18

ounces

Welch's Concord Grape Jelly

1 jar
Add 1 bottle Heinz Chili Sauce and 1 jar Welch's Concord Grape Jelly to medium mixing bowl and combine thoroughly.

Place frozen Meatballs in 5-6 Quart Slow Cooker, covering Meatballs with mixture from the medium mixing bowl.

Place lid on your Slow Cooker and heat Meatball mixture on Low for 4 hours or High for 2 hours, or until done. Stir mixture occasionally.

Once done, set your Slow Cooker to the 'WARM' setting. Enjoy right away, or enjoy your Meatballs slowly during your Football Game or Party.