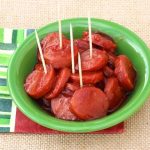 Print Recipe
Cranberry Kielbasa Bites {Crock Pot Recipe}
Planning a party or just looking for the ultimate appetizer? These Cranberry Kielbasa Bites will disappear before your eyes!
Slice Kielbasa links into round pieces 1/4 to 1/3 inch thick.

Place sliced Kielbasa pieces in Crockpot

In mixing bowl, stir together Jellied Cranberry Sauce and Chili Sauce.

Pour sauce mixture over Kielbasa in Crockpot.

Cook on HIGH for 1 1/2 hours, or LOW for 2 1/2 hours, or until hot.

Serve with toothpicks and Enjoy!