Pressure Cooker Apple Sauce Recipe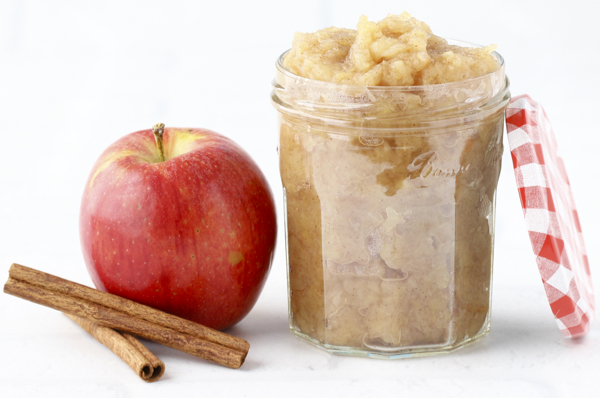 10-12 medium Gala Apples (approx. 4 pounds)
2 teaspoons ground Cinnamon
½ cup Water
1 teaspoon granulated Sugar
½ teaspoon Vanilla extract
Peel and core Apples.
Cut peeled Apples into small thin pieces.
Place Water, Apples, Cinnamon, Sugar, and Vanilla into Pressure Cooker and stir with large wooden spoon until well combined.
Instant Pot Cooking Instructions: Cook on Manual, High Pressure, 8 minutes
Crock Pot Pressure Cooker Instructions: Select Beans/Chili, High Pressure, 8 minutes, Start
Once Apples are done, naturally release pressure before removing lid.
Allow Apples to cool in Pressure Cooker for 10 more minutes .
Place a large colander in kitchen sink and line with two to three large pieces of cheese cloth.
Transfer cooked Apples from Pressure Cooker into cheese cloth lined colander.
Pick up cheese cloth from corners, twist at the top, and strain excess water from cooked Apples.
Transfer drained Apples to large mixing bowl.
For chunkier applesauce, mash with a potato masher. For smoother applesauce, mix with a hand mixer until desired consistency.
Transfer to mason jars and store in refrigerator. Enjoy once chilled!
For baby food, transfer applesauce to food processor or blender, and puree until smooth. (You may need to add additional water to achieve desired silky baby food consistency)
Transfer to baby food containers and store in the refrigerator up to 3 days or in the freezer for up to 30 days.
In addition to cook time, it will take approx. 10-15 minutes to initially reach pressure before cook time begins, and an additional 10 minutes to naturally release pressure after cooking has completed.

In the Fridge: Store up to 5 days.
In the Freezer: Store up to 3 months.
Recipe by
DIY Thrill
at https://diythrill.com/2018/02/11/pressure-cooker-applesauce-recipe/