This Easy DIY Paper Towel Holder Hanger is so quick and easy to make!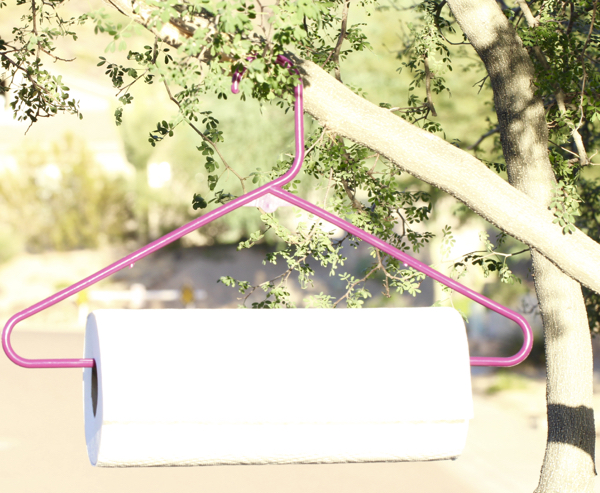 Do you want an easier way to grab some paper towels when you're in the
Garage
, in your Dorm Room, or at the
Campground
?  This inexpensive
DIY Paper Towel Holder Hanger
trick is thrifty, quick to make, and works like a charm!
At home or in your dorm?  Hang it from a nail in the garage, or from a drawer knob in your dorm… and you've got yourself a handy way to access your paper towels!
Planning a Camping trip soon?  Take along this handy DIY Paper Towel Holder and hang it on a tree limb!  If you need a napkin or are just cleaning up a spill, it's so convenient to have handy access to paper towels when your camping.
Are you ready to make your DIY Paper Towel Holder Hanger?  Here's what you'll need…

DIY Paper Towel Holder Hanger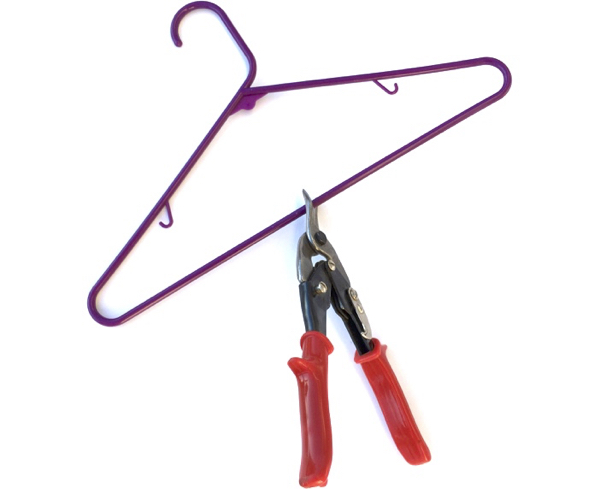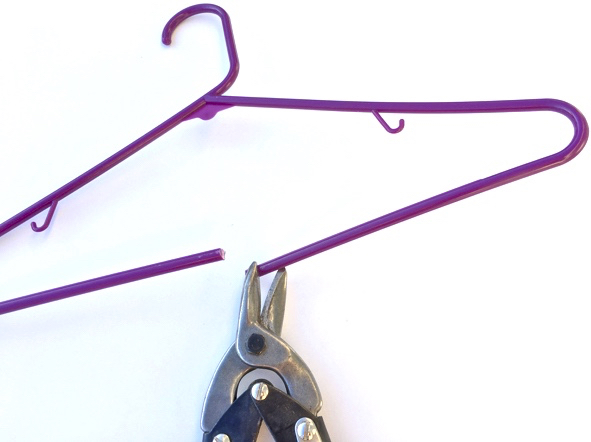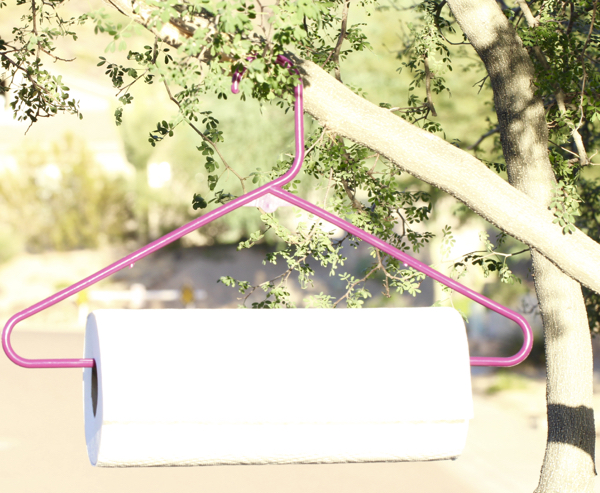 DIY Paper Towel Holder Hanger Supplies Needed:
1 Plastic Clothes Hanger
Wire Cutter or Metal Shears
Instructions:
Cut the bottom of the hanger in the middle as shown in picture.
Cut off the little hooks on the hanger also.
Slip a paper towel roll onto the bottom of the hanger.
Hang on a tree limb when camping or on a nail in your garage.
Looking for more fun DIY and Camping ideas?  Get inspired below…
These Easy Garage Organization Ideas will transform your cluttered garage into a tidy, organized space in no time!  No longer will you have to buy something and wonder if you have that same item somewhere in your garage… you'll know what you've got and where you've got it.
Are grocery bags taking over your kitchen? Take control of the clutter with this easy DIY Grocery Bag Dispenser!  This Grocery Bag Dispenser is perfect for use in the kitchen, around the house, on a road trip, camping, and even in your RV. Prepare to have your life simplified!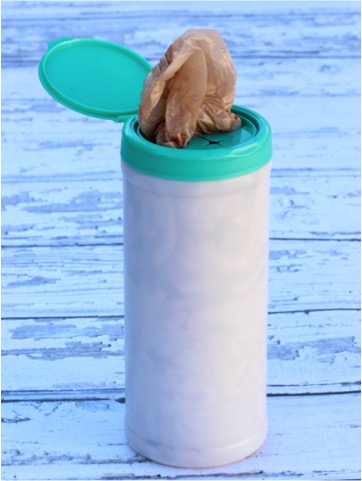 Orange Peel Candles?  Yes, it's true!  This little orange peel candle experiment works like a charm!  It's the perfect DIY trick when you're out of candles!  If the power ever goes out and you're low on candles, this DIY Orange Peel Candle is the perfect solution.

Do you ever have a hard time trying to start a fire from scratch?  This Easy Fire Starter makes starting a fire a breeze!  The combination of dryer lint and wax in these homemade fire starters are the perfect way to get your fire going quickly!

Planning an outdoor adventure or just looking for some fun new gear for your next camping trip?  These 11 Best Camping Gear and Gadgets are some of my absolute favorite things to have on hand when camping!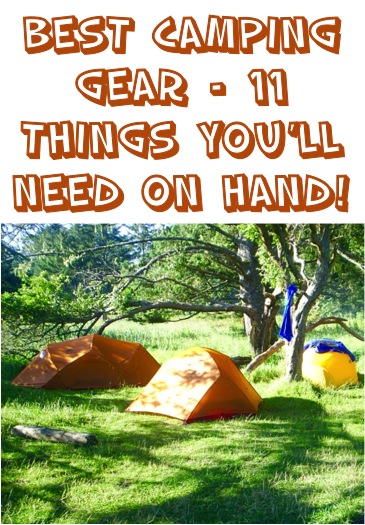 Did you know Altoid Tins also made great little survival kits?  These Mini Survival Kits are quick and simple to make, and the perfect addition to your hiking backpack, camping gear, or your car's glovebox.
Do you have your Homemade Survival Kit ready?? Nobody ever plans to be in a survival situation, but when the unexpected actually happens, you'll give yourself a little pat on the back and thank yourself for planning ahead!  These kits are great to take Camping, too.

Find more fun DIY Tips and Tricks here…