This One Pot Chili Recipe is the perfect dinner for those busy weeknights!  So easy, and you'll only need one pot!
Wondering how to make quick and easy One Pot Chili?  You'll love warming up this Fall with this savory
One Pot Chili Recipe
!  Just dump the ingredients into your pot, heat it up, and you're done!  It's really that easy!  There's no need to dirty up all your dishes… and a
delicious dinner
will be done in no time.  This easy recipe makes a big batch, so you'll have leftovers for later in the week, too!
It's simple enough to make as a weeknight meal, and perfect for game day.
Are you ready for this easy tasty chili recipe?  Here's what you'll need…
Related: 

One Pot Chili Recipe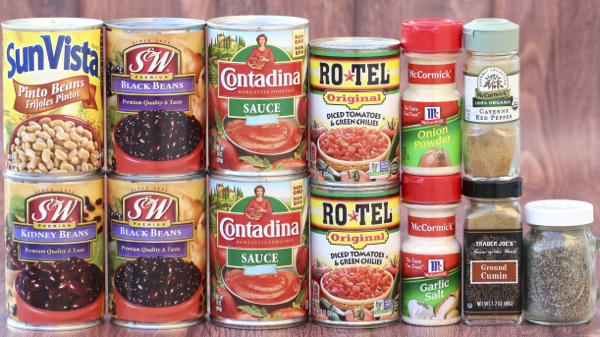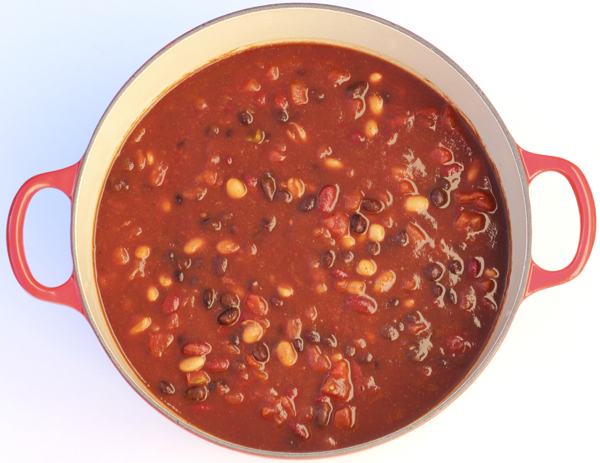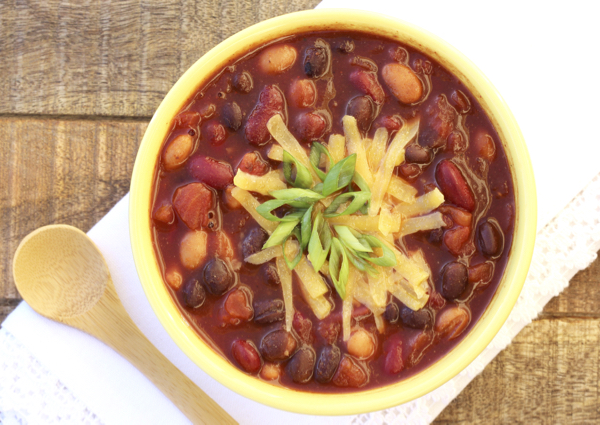 One Pot Chili Recipe
Prep time:
Cook time:
Total time:
Ingredients
2 cans Black Beans, drained (15 oz. per can)
1 can Pinto Beans, drained (15 oz.)
1 can Dark Red Kidney Beans, drained (15.25 oz.)
2 cans Tomato Sauce (15 oz.)
2 cans Rotel Diced Tomatoes and Green Chilies (10 oz. per can)
1 tbsp. Chili Powder
2 tsp. Onion Powder
1½ tsp. Garlic Salt
½ tsp. Pepper
½ tsp. Cumin
⅛ tsp. Cayenne
Instructions
Pre heat Dutch Oven on medium heat for a few minutes.
Drain cans of Pinto Beans, Black Beans, and Kidney Beans.  Then add beans to Dutch Oven and stir.
Dump cans of Rotel Diced Tomatoes and cans of Tomato Sauce into Dutch Oven.  Stir thoroughly.
Add Chili Powder, Onion Powder, Garlic Salt, Pepper, Cumin, and Cayenne to chili.  Stir well.
Cook chili on medium - high heat for 30 minutes. Stir occasionally.
Dish into bowls and garnish with shredded cheese and chopped chives. Enjoy!
Yum
Craving more delicious 
Dinner Recipes
? Get inspired below…
Wondering how to make white bean chicken chili?  This easy One Pot White Chicken Chili Recipe is loaded with delicious, savory flavors and will warm you to the toes!  A big protein-packed bowl is one easy way to satisfy hunger!

Looking for a quick and easy Crockpot dinner this week?  Satisfy your homestyle comfort food cravings with these tender and juicy country smothered pork chops! This delicious Slow Cooker meal will fast become a family favorite!

Have you ever found the idea of cooking a whole chicken just a wee bit daunting?  No need to worry… cooking a whole chicken in your slow cooker is actually ridiculously simple with this Easy Whole Chicken Crock Pot Recipe!  Just 5 Ingredients and so delicious!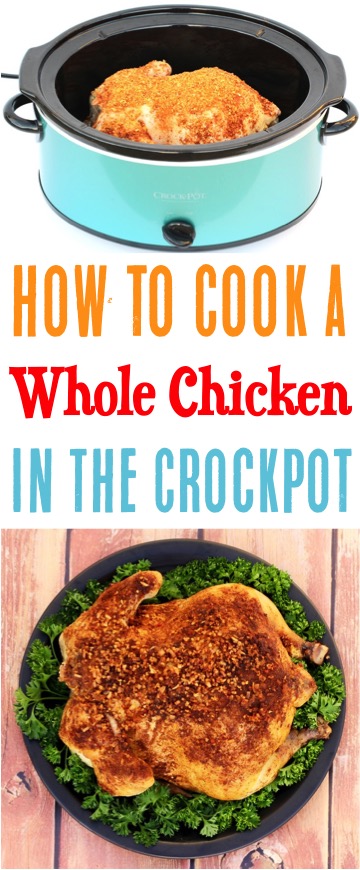 Looking for an easy dinner recipe that your whole family will love?  This yummy Panda Express Orange Chicken Recipe is way better than takeout!  This easy diner is seriously easy to make.  Just dump the ingredients into a crockpot, close the lid, and walk away!

Are you wondering how to make pork chops in the Crockpot?  The flavor-packed ranch dressing and cream of chicken soup adds amazing flavor to this Crockpot Ranch Pork Chops Recipe.  With just 4 ingredients, this slow cooker pork chops recipe is the perfect option for a quick and easy dinner!

This yummy Slow Cooker Italian Herb Chicken Recipe is a the perfect quick prep weeknight dinner option!  The combination of onion, garlic, Italian seasoning, and melted mozzarella cheese makes this chicken Slow Cooker Recipe pretty much irresistible!

Simplify your weeknight dinners with this savory Slow Cooker Greek Chicken Recipe!  The delicious combination of exotic Greek flavors with olives and feta cheese will be a family favorite.
These Easy Chicken Quesadillas are so yummy!  Seriously… nothing is more satisfying after a long busy day than biting into a cheesy Quesadilla filled to overflowing with chicken, onions, and chiles.

It's time to give your Crescent Rolls a serious makeover!  That's right… with just a few delicious ingredients, you can create the perfect side for your Italian dinner this week.  This Garlic Parmesan Crescent Rollsrecipe couldn't be easier and the result is pure deliciousness!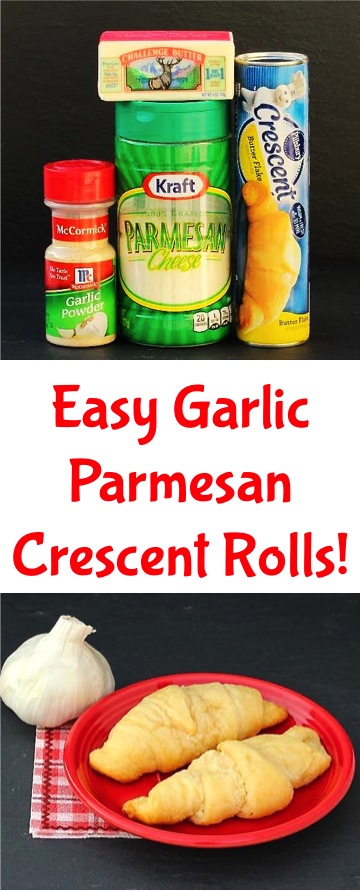 This Crock Pot BBQ Chicken Recipe will revolutionize your weeknight dinner menu!  You just can't go wrong with the delicious flavors of Barbecue, Coke, Bacon, and Cheddar Cheese!  Go grab your Slow Cooker, and let's get to it!

What happens when you take your favorite drink, boneless skinless chicken breasts, and a Crock Pot?  An over-the-top delicious meal… that happens to be crazy easy, that's what!  This delicious Crock Pot Lemonade Chicken Recipe is just the perfect blend of savory, and will fast become a family favorite!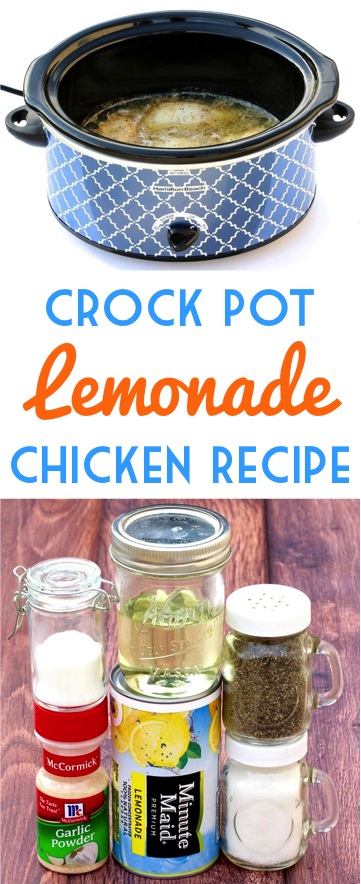 Find more fun DIY Tips and Tricks here…