These delicious Peanut Butter Chocolate Chip Cookies will melt in your mouth!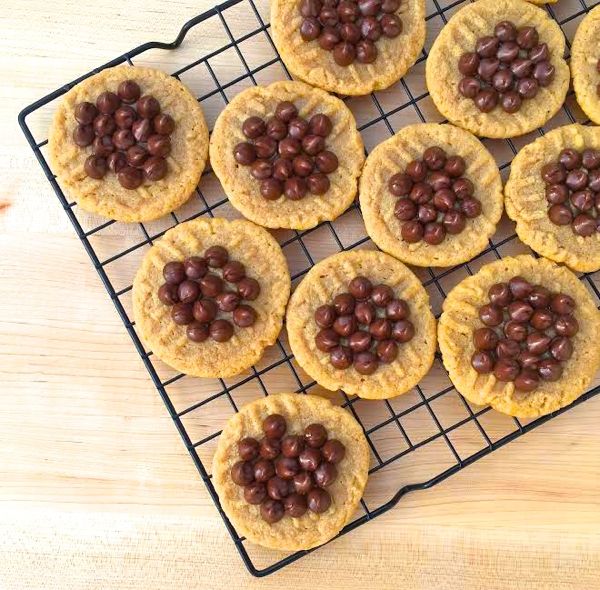 Give your traditional Peanut Butter Cookies a seriously delicious makeover with these Easy Peanut Butter Chocolate Chip Cookies!
I know it sounds crazy, but they have no flour and no butter… and they are still so yummy!  With just 4 ingredients, they're so easy to make.
Friends and family will keep coming back for more! 🙂  Are you ready to make some cookies?
Related: 
Peanut Butter Chocolate Chip Cookies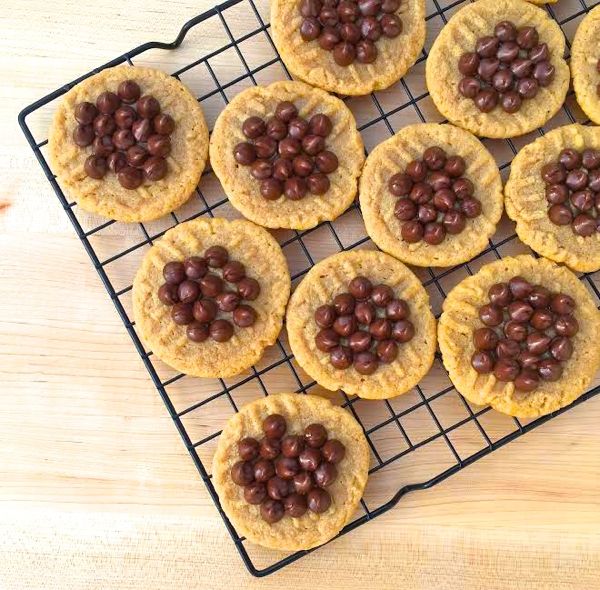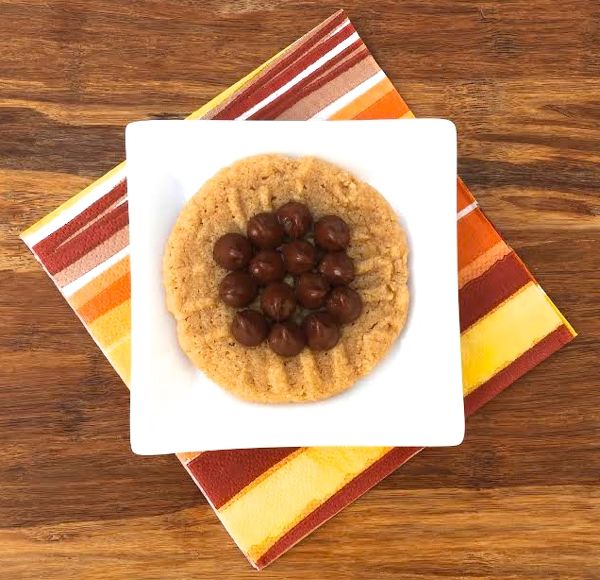 Peanut Butter Chocolate Chip Cookies
Prep time:
Cook time:
Total time:
Ingredients
1 cup Jif Creamy Peanut Butter
1 cup Sugar
1 Egg
1 cup Semi-Sweet Chocolate Chips
Instructions
Mix together the Peanut Butter, Sugar, and Egg by spoon in a medium mixing bowl and stir well.
Place dough in fridge to chill for 45 minutes.
After 45 minutes, roll dough into small balls, and place on ungreased Cookie Sheet.
Using a fork, gently press down on top of each cookie ball. Once each way to make a criss-cross pattern.
Bake at 350 degrees for 8 – 10 minutes, or until done.
Immediately after removing from oven, place 15 - 20 chocolate chips in the center of each cookie
Allow to cool before serving, Enjoy!
Yum
Craving more delicious Desserts?  Get inspired below…
This Chocolate Chip Cake Mix Cookie Recipe is super easy and crazy delicious! This delicious cookie is the perfect solution for weeknight desserts, parties, and of course those late night cravings!


Who says you have to wait for ice cream?  Now you can enjoy the mint chocolate decadence of your favorite ice cream… in the form of a cookie!  Yes, please!  This Mint Chocolate Chip Cookies Recipe couldn't be easier, either… just 6 quick ingredients, and you're done!

Nothing satisfies your sweet tooth quite like this Lemon Cake Mix Cookies Recipe! With just 4 ingredients, these Cake Mix Cookies are so easy to make and the perfect combination of tart and sweet.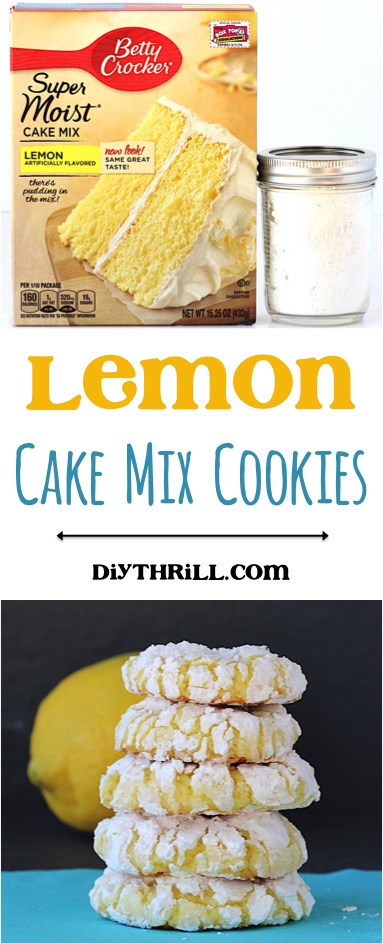 Looking for an easy and deliciously addictive dessert to make for that upcoming birthday party?  These Birthday Cake Mix Cookies taste like a little birthday celebration is happening right inside your mouth!  Just 5 ingredients, and you're ready to party!

A cookie doesn't need to be complicated to be ridiculously delicious!  You'll love this easy Snickers Cookie Recipe! Did I mention just 2 ingredients?  What are you waiting for… it's time to meet your new favorite Chocolate Chip Cookie!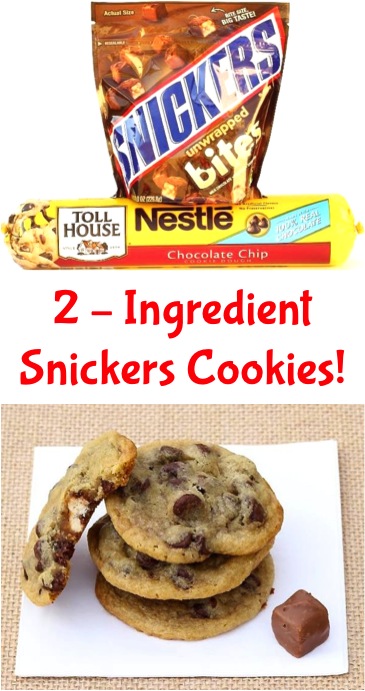 Cake Mix Banana Bread?  Yep… you read that right!  This EASY Cake Mix Banana Bread Recipe is the solution for those banana bread cravings!  Made with real bananas, this delicious bread is the perfect addition to your brunch or dessert menus!  Plus… it really couldn't be any easier to make than this!

Don't have time for long and complex recipes?  I don't either!  That's why I absolutely love this Easy 3 Ingredient Dump Cake Recipe.  All you have to do is dump it in and walk away!  How's that for complicated?  😉  Are you ready for some Lemon Blueberry goodness?

Need a quick and easy dessert?  These Strawberry Cheesecake Crescent Rolls are so easy to make and absolutely delicious!  What could be yummier than strawberry and cream cheese wrapped up in a warm buttery crescent roll?

 Every dinner deserves a delicious dessert, and this by far is one of my fall favorites!  The delicious flavors of Carmel and Apple explode in this yummy Crock Pot Caramel Apple Dump Cake Recipe! With just 4 ingredients, this Dump Cake recipe is crazy easy!

Key Lime Pie is one of my favorite desserts, so it's no surprise these Key Lime Angel Food Cake Barstop my dessert list!  What could be easier than 2 ingredients, right?  Combining Key Lime Pie filling and Angel Food Cake is a recipe for success!

On the hunt for another savory Recipe?  These easy Caramel Apple Crescent Roll Bites are insanely delicious, combing the incredibly yummy flavors of caramel and apple to make the ultimate dessert!

Thanks for supporting DIY Thrill!  Sharing at these Best Link Parties!
Find more fun DIY Tips and Tricks here…