You will absolutely love this over the top delicious Overnight Oatmeal Recipe!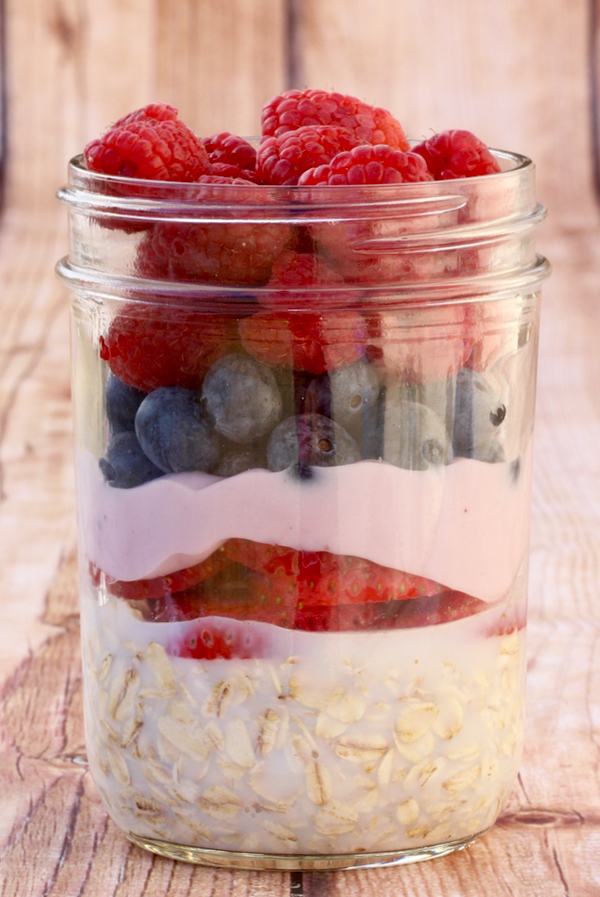 How would you like to enjoy a fusion of flavorful fresh fruit, yogurt, and oats every morning?  This Overnight Oatmeal Recipe will leave you refreshed and energized to start your day.
This is by far my favorite way to eat oatmeal for Breakfast. You'll love it!
Related: 
Overnight Oatmeal Recipe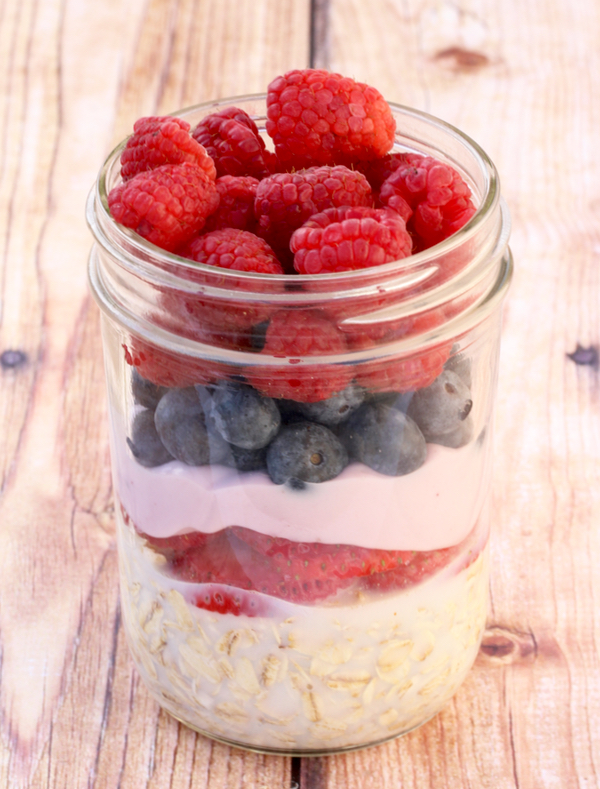 Overnight Oatmeal Recipe!
Ingredients
¾ cup Old Fashioned Oats
⅔ cup Milk
¼ cup sliced Strawberries
½ cup Yoplait Mixed Berry Yogurt
¼ cup Blueberries
½ cup Raspberries
cover with plastic wrap, pop in the fridge, and it will be ready to enjoy the next morning.
Instructions
In this order, add into jar your Oats, Milk, Strawberries, Yogurt, Blueberries, and Raspberries.
Cover with plastic wrap, pop in the fridge, and it will be ready to enjoy the next morning.
Yum
Craving more delicious 
Breakfast Recipes
?  Get inspired below…
Need a simple breakfast in a jiffy?  There is nothing quite as easy and delicious as Scrambled Eggs in a Mug! Skip the expensive protein options and fill up on these delicious Scrambled Eggs in a Mug. This easy breakfast is perfect for a busy on-the-go schedule!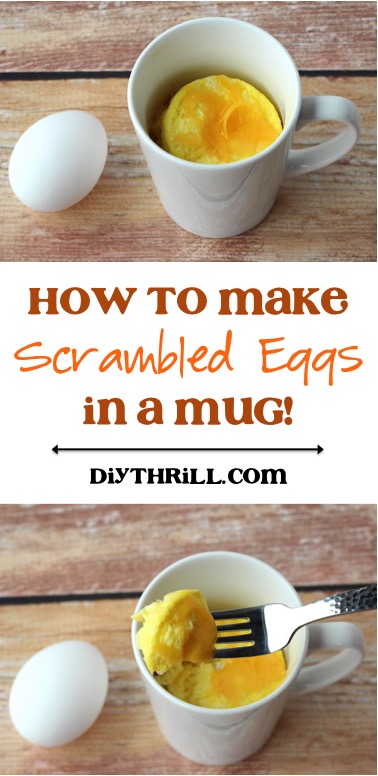 Now are you ready to meet my favorite new shake?  Let me introduce you to Strawberry Coconut bliss!  That's right… this Strawberry Coconut Protein Shake Recipe is like a little splash of fruity tropical heaven!  Simple to make and oh-so delicious!
This Pressure Cooker Applesauce Recipe is done in a fraction of the time that it would take to make applesauce on the stove or crockpot!  Plus… it will make your home smell AMAZING!  It's such a healthy snack, and even the kiddos will love it!

Need a quick and easy dessert?  These Strawberry Cheesecake Crescent Rolls are so easy to make and absolutely delicious!  What could be yummier than strawberry and cream cheese wrapped up in a warm buttery crescent roll?

Add a fun and unique twist to your cinnamon rolls with this easy Cinnamon Roll Waffles Recipe! These delicious Cinnamon Roll Waffles are so EASY to make, and perfect for weekend breakfast, holiday brunch, or delicious birthday morning waffles!

Are you craving a seriously delicious lemon pastry?  This heavenly mouthwatering 3-Ingredient Lemon Crescent will have you coming back for more!  It's creamy lemon filling wrapped up in a crescent and covered in powdered sugar… you just can't go wrong!  You'll absolutely love this Easy Lemon Crescent Rolls Recipe!


It's time to start planning your most epic camping menu ever… these Easy Camping Recipes are perfect for your next weekend in the woods!  Check out these brilliant camping food ideas and outdoor campfire recipe hacks.

Cake Mix Banana Bread?  Yep… you read that right!  This EASY Cake Mix Banana Bread Recipe is the solution for those banana bread cravings!  Made with real bananas, this delicious bread is the perfect addition to your brunch or dessert menus!  Plus… it really couldn't be any easier to make than this!

Find more fun DIY Tips and Tricks here…